Make sure your information is up-to-date!
The Middleburgh Central School District uses Blackboard to communicate with students, parents, and community members about school events, school closings and delays, and emergency situations. Blackboard uses information in SchoolTool, but it cannot work properly if your information is not up to date. Here's how you can help make sure you stay up-to-date on the latest information from MCS:
Make sure to fill out the Emergency Contact form sent home with your student completely and accurately, and send it back in to your child's school.
Log into your SchoolTool account on our website and make sure that all your emergency contact information is accurate. Also make sure that you have a contact e-mail address listed with your account.
If your information is inaccurate or incomplete, or if you do not have an e-mail address listed in your contact information, please contact your school's Main Office to have your information updated!
Download the Free Blackboard District App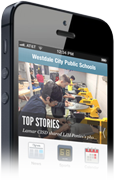 View news stories
View sports Scores
Receive important alerts
View calendar information
Access school and staff information