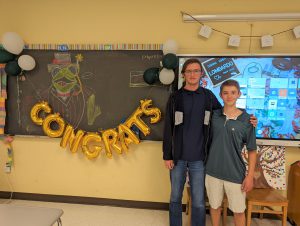 First place winner Tadhg Martin was awarded $250 and second place winner Liam Hooper was awarded $175 for their thoughtful essays that examined the modern day misuse of Holocaust imagery for highly divisive public health issues. 
"This is the first time our school has had a winner and we are very excited," said Mr. Dannible. For at least ten years, Mr. Dannible's AP World History class and Mrs. Lombardo's Honors English class participated in a Holocaust Essay Contest sponsored by B'nai B'rith. It's open to middle school and high school students in 12 counties of the Capital Region. 
"Tadhg and Liam have brought very high honors to themselves, their families and to Middleburgh Schools. Congrats also to Mr. Dannible and Mrs Lombardo as they are outstanding teachers and mentors to our young people," said Superintendent Dunn.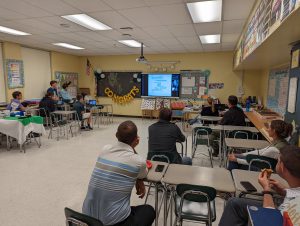 The teachers had a reception for students and parents before last week's Zoom award ceremony, first place winner Tadhg Martin and second place winner Liam Hooper made Middleburgh proud as they read their award-winning essays that responded to this question:
Our country is bitterly divided on public health issues such as vaccination and mask mandates. Protesters have adopted the Holocaust symbols of wearing yellow stars like those used to identify Jews during WW-II. What can your generation do to reach today's adults and tomorrow's students to distinguish between benevolent vs. evil public policies? How does misuse of symbolism undermine efforts to prevent future Holocausts?
A passage from Tadhg Martin's essay
A long list of anti-Semitic policies enacted in Nazi Germany provide clear examples of evil policies, such as policies removing Jewish citizenship in Germany, Jew's rights to open and operate businesses, and the requirement that Jews wear the Yellow Star. At their simplest, all of these policies intend to dehumanize the Jewish people. Vaccination mandates, when in effect, attempt to make our country a safer and healthier place, with absolutely no intentions to discriminate against or dehumanize anyone. In order to solve this problem, those responsible for the misuse of symbolism must accept responsibility and learn to understand how they have disgraced Holocaust symbolism and victims.  Their generation, as well as our generation and future generations can study these mistakes to learn from them, and learn to fully understand the difference between benevolent and evil public policies. 
Unfortunately, what anti-vaccination activists don't seem to understand is how drastically different their current situation is compared to the situations of more than 6 million Jews during World War II. Survivors of the Holocaust, who have seen first-handedly the horrors brought about by true persecution, have spoken out against the use of the Yellow Star symbolism in protest of the vaccine mandates. Read Tadhg's full essay here. 
A passage from Liam Hooper's essay 
The origins of the Holocaust and the anti-vaccine protests offer a comparison that shows just how different these two events were. December 2020: a small band of sunshine burst through the dark cloud of the pandemic, and that sunshine was the approval of the first working mRNA Coronavirus vaccine. While this is something that should have been celebrated throughout the entire world, fear and conspiracy began to grow regarding the vaccine. The approval of the vaccine served as a start to the seemingly endless argument over vaccination status. No one who lived through December 2020 will ever forget it, as it should be remembered through later generations, just as the Holocaust should be remembered today. Two horrific dates that should be remembered that are often forgotten are November 9th and 10th 1938. These days became commonly known as Kristallnacht, often called "The night of broken glass," which served as a start to the Holocaust. While anti-semetic thoughts, ideas and actions already existed in Nazi Germany and occupied lands, Kristallnacht served as the beginning of the imprisonment of people strictly because they were Jewish. Since December 2020, restrictions have been put into effect regarding vaccination status, but these restrictions were meant only to benefit the public health, not to discriminate against so-called "anti-vaxers." Kristallnacht, however, was meant to have the exact opposite effect, as the aim of the pogroms was to discriminate against people just because they were Jewish. It is the stark difference between the benevolent Covid-19 vaccine protocols and the evil Kristallnacht pogroms that shows the extreme opposite government actions regarding public affairs. 
"Ignorance is bliss." We've probably all heard the saying before, and some may even agree with its message, but in this situation, ignorance is the enemy of progress. As humans we are often ignorant of that which has not affected us, even though this is how the Holocaust happened, and how future Holocausts could occur. Read Liam's full essay here. 
You can read more about the contest, high school and middle school winners, and judges in this article.