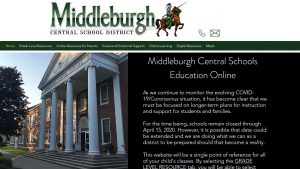 Today, March 30, the Middleburgh School District launched a new website,
which now houses all the digital resources students need during this extended school closure.
Each grade level and course has materials to access, and teachers will be updating the material each week. 
"As we continue to monitor the evolving COVID-19/Coronavirus situation, it has become clear that we must be focused on longer-term plans for instruction and support for students and families," Superintendent Brian Dunn said. "For the time being, schools remain closed through April 15. However, it is possible that date could be extended and we are doing what we can as a district to be prepared should that become a reality."
All students and parents need to do is to select the "Grade Level Resource Tab" to see their grade level and classes. Through this single point of reference, students and parents will see the assignments their teachers have been developing over the past week.
​In addition to assignments, teachers will be offering online classes via Zoom video conferencing. More information and a daily schedule can be found on the "Online Learning Tab."
"This is a stressful time for all and we understand the many challenges families are faced with," Mr. Dunn said. "We want you to know that while our operations have been consolidated to small teams of people and will be provided through online resources, we still have staff and resources at the ready to help your child and you navigate this difficult situation."
Additionally, Mr. Dunn reinforced the important roles students and parents have in making sure the work is completed.
"Middleburgh parents have shown us they are the example for others to follow as they continuously remind and motivate their children about the importance of staying focused, having a daily routine and getting their work done in order to maintain the proficiencies they have in their school work," said Mr. Dunn. "This remains critically important. We know our older students realize this too."
Mr. Dunn also praised the work of Middleburgh's faculty, staff and administrators for the work they've done to ensure Middleburgh's students have the resources they need for continued academic success.
"Our teachers, staff and administrators have been doing herculean work during this extended school closure," he added. "Words can't adequately express our gratitude. They've shown us yet again why teaching is a calling. They've risen far beyond this calling." 
Letter to Jr./Sr. High School parents from Principal Matthew Sloane
Letter to Elementary School parents from Principal Amy Irwin