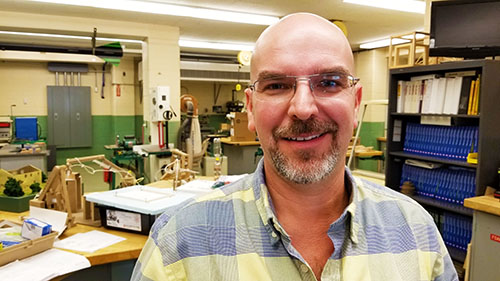 Middleburgh Jr./Sr. High School technology teacher Scott Gray has been selected for the state's Master Teacher program. The selection was announced on Wednesday.
Mr. Gray graduated from SUNY Cobleskill and got his master's degree from Union College. He has been a technology teacher at Middleburgh since 1998. This was Mr. Gray's second year applying to join the Master Teacher program. He describes the process as "very intensive". Out of the tens of thousands of teachers in New York State public education, only 908 have been accepted into the Master Teacher program. 214 teachers were admitted in this year's class, and Mr. Gray was one of just 14 technology teachers selected statewide.
The Master Teacher program involves at least 50 hours of professional development during weekends at SUNY Oneonta, along with many more hours of bringing those new techniques and ideas back and implementing them in the classroom.
"I'm so honored to be given this opportunity."
Mr. Gray has taught in Middleburgh for the past 19 years. He also teaches two Computer Aided Design courses at SUNY Cobleskill. During his time at Middleburgh, Mr. Gray has helped expand the technology department to bring new offerings to students, and has helped students showcase their work for the community through Technopalooza, an event which is held the last Friday of school every year. Technopalooza allows students to display and test their projects for parents and community members, and culminates a year of hard work.
Mr. Gray has also helped the school literally rebuild following the devastating flooding from Hurricane Irene in 2011. Water levels rose several feet in the technology classrooms, destroying everything. Mr. Gray helped to rebuild and renovate some of the technology rooms with another teacher so that classes could get started again.

"We have to start getting kids engaged with STEM from a younger age."
One of the goals Mr. Gray has from his work with the Master Teacher program is to extend the district's STEM offerings K-12. Mr. Gray says he wants to engage more students in STEM from an earlier age. The more they are interested, he says, the more they will come to school and the more successful they will be.
Mr. Gray is also looking forward to learning about new and different ways of teaching STEM to students. He says he has a drive to always improve, and is always looking to do something in different ways instead of doing the same thing over and over again. His 19 years of experience have shown him that students love a hands-on approach to learning.
"I attribute my successes to the teachers I work with."
Mr. Gray says he hopes to encourage other Middleburgh teachers to apply for the Master Teacher program as well. Though Middleburgh is a small district, Mr. Gray says that size doesn't prevent the district from doing great things. He says he hopes the community sees everything the teachers of the district try to do for the students, all the opportunities they do provide, and everything they hope to achieve in the future.
"If you told me 20 years ago that I would have been a teacher, I never would have believed you. But it was the best thing that ever happened to me."