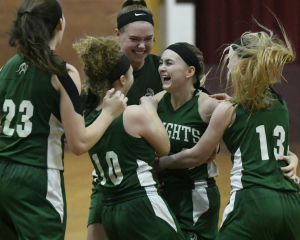 Middleburgh senior Kelsey Terrell eclipsed a personal milestone Wednesday night in a game against Notre Dame Bishop Gibbons – passing 1,000 points for her Middleburgh basketball career. With just seconds left in the game, Terrell hit a free throw to put her name into the books with other Middleburgh basketball legends.
"I had no idea I was going to break 1,000," Terrell said after the game. "It was really surprising, it was really fun." She also thanked everyone who has helped and supported her on her athletic journey.
Middleburgh won the game 54-49.