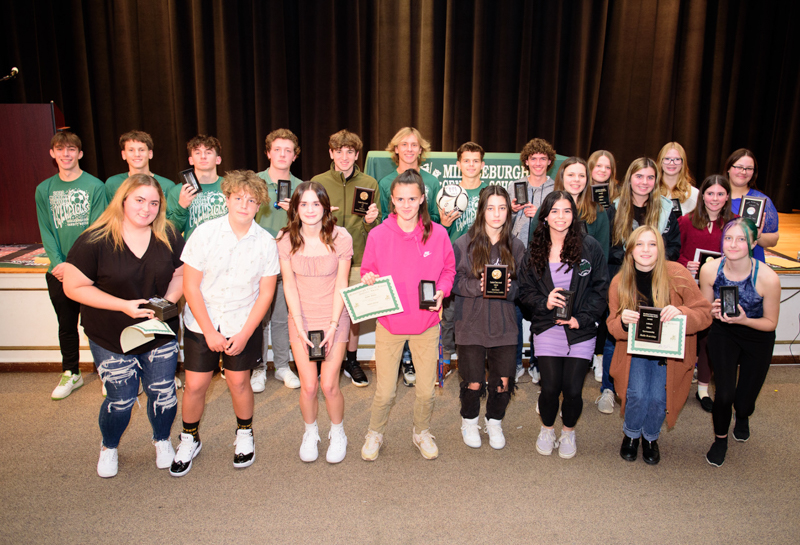 MCS student-athletes at the modified, JV, and varsity levels have been honored for their achievements during the fall season. During a ceremony on Nov. 9, members of the golf, soccer and volleyball teams were presented with awards.
Athletics Director Gregg Johns says, "We're very proud of our student-athletes both on and off the fields this fall."
The award recipients are:
Modified Volleyball Sportsmanship Award: Adriana Mattice
Modified Girls Soccer Sportsmanship Award: Stella Beardsley
Modified Boys Soccer Sportsmanship Award:  Matthew Armlin
MVP Golf: Quin Smith
MIP Golf:  Matthew Quinn
Coaches Choice Golf: Tristan Staccio
Offensive MVP Boys Soccer: Austin Johns
Defensive MVP Boys Soccer:  Nate Wood and Ben Croote
MIP Boys Soccer: Braeden All
Coaches Choice Boys Soccer: Liam Delaney
Offensive MVP Girls Soccer: Laney Heaney
Defensive MVP Girls Soccer: Cierra DuPont
MIP Girls Soccer: Brooke Devlin
Coaches Choice Girls Soccer: Brianna Devlin and Morgan Masterson
Offensive MVP JV Volleyball: Brianna Simmons
Defensive MVP JV Volleyball: Delilah Shultes
MIP JV Volleyball: Marley Morgan
Coaches Choice JV Volleyball: Caitlyn Lawyer
Offensive MVP Volleyball: Kaelynn Wainwright
Defensive MVP Volleyball: Payton Yung
Coaches Choice Volleyball: Madison Randaisi
MIP Volleyball: Lillian Kennedy
The Middleburgh Central School District believes athletics are an integral part of a well-balanced educational program. That's why the district supports a broad sports program with equal access for all students, emphasizing maximum participation through interscholastic and intramural activity.