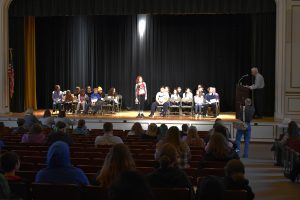 Twenty four Middleburgh students competed through twenty six rounds of weird words and vexing vocabulary in the district-wide spelling bee before fifth grader Aleah Becker was crowned champion. She will go on to represent the district at the regional bee at Proctors in Schenectady in February.
"It feels amazing," said Aleah. "I was really nervous at the end," as she went back and forth spelling words with second-place finisher, eighth grader Liam Hooper.
Aleah says she always tried to think as much as possible before spelling a word so she wouldn't make a mistake. "I tried to remember tips on how to spell the words, the little tricks our teachers taught us for it."
Aleah said she wanted to thank Ms. Monczewski and Ms. Becker for all the stuff they taught her. She says she is very excited to head to Proctors and compete on stage there representing Middleburgh.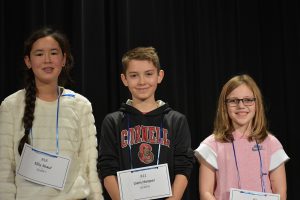 Eighth grader Liam Hooper finished in second and seventh grader Ellie Shaul finished in third place.