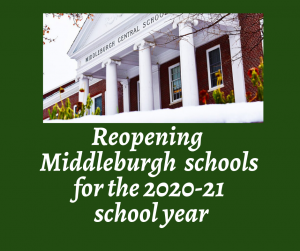 Dear Middleburgh school community:
Today, Aug. 7, Gov. Cuomo announced all New York State schools can reopen next month, based on his assessment of the required metrics to be in place to allow this to happen.
We are pleased to hear this news, as this allows us to continue to finalize our comprehensive work for our opening day. It's important to again stress our instructional plan is a fluid one and how our plan continues throughout the school year depends on changing conditions.  We encourage you to thoroughly review our plan:
The Middleburgh 2020-21 School Reentry Plan
We do not expect any issues from the Department of Health that would not keep us on track for our opening.
Our plans for remote learning are also further progressing. Per the governor's requirement, we will be separately posting this information and details on our COVID-19 testing and contact tracing protocols on our website no later than Aug. 14. Currently, this information is all contained in the full plan.
As you know, we held three parent/guardian Zoom forums this past week, where we discussed our plans with our elementary, high school and special education parents/guardians. We were already in the process of scheduling additional meetings. Please mark your calendars for Parent Forums to  be held Monday, Aug. 17  at 6 p.m. for elementary families; and at 7 p.m. for Jr./Sr. high school families. More details will follow in the coming days.
Separately, we have been having ongoing discussions with our faculty and staff throughout our reopening planning process, and will continue to do so as our first day of instruction nears.
Thank you for your continued ongoing patience and grace as we continue to move forward with reopening our schools. We are grateful for your supportive partnership.
Sincerely,
Brian P. Dunn
Superintendent