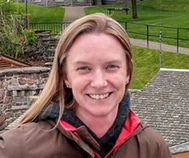 At its June 12 meeting, the Middleburgh Board of Education named Amy Irwin as the next Principal of Middleburgh Elementary School.
Mrs. Irwin comes to Middleburgh from the Albany School of Humanities, where she has served as Assistant Principal since 2017. Prior to that, she worked at George Washington School in Troy as Coordinator of Behavioral Interventions, the Woodland Hill Montessori School in Rensselaer as Director of Auxiliary Services, and the Cold Springs School in New Haven, CT as Assistant to the Director. Mrs. Irwin received her Bachelors of Science in Education: Elementary and Special Education with an English Concentration from SUNY Geneseo. She received her Master's of Science in Education: Literacy from the College of Saint Rose.
Mrs. Irwin also has experience as a Special Education Teacher and Assistant Primary Teacher.
"We welcome Mrs. Irwin to Middleburgh Elementary School and look forward to her joining our team," said Superintendent Brian P. Dunn. "Her experience will help all our Elementary students succeed, preparing them to flourish in the Jr./Sr. High School."
"I am very excited to be a part of the Middleburgh community," said Mrs. Irwin. "Every person I've met from the district has been so kind and welcoming. I look forward to getting started this summer and learning more about the students, families, faculty and staff."
Current principal Michael Teator's last day will be June 30.