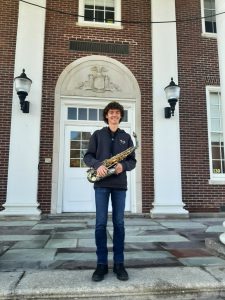 Matthew Quinn has been accepted to the Zone 8 Area All-State Band. The sophomore, who is a member of the High School Band and Jazz Band, was selected based on his band teacher Sarah Tomic's recommendation and his outstanding NYSSMA score on a level 6 solo.  Matthew also studies privately with Katherine Hudson-Sabens. Tomic says the selection to All-State is a reflection of Matthew's dedication.
"We are very proud of Matthew's hard work and wish him the best as he participates in the festival," said Tomic. 
Matthew will play with the top students from Madison, Chenango, Schoharie, and Delaware counties. The festival will take place at Walton Central Schools on Nov.18 and 19, culminating in a concert at 3 p.m.