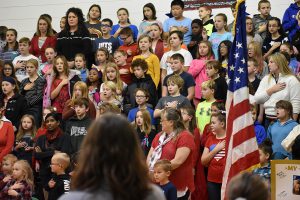 Elementary students gathered Thursday morning to honor the accomplishments and sacrifices of veterans in our area. Students were able to invite a veteran to bring to school for breakfast before dozens of veterans were honored in a school-wide ceremony in the gymnasium.
Students sang songs, read essays, and presented posters to honor the sacrifices of our nation's veterans and to thank them for the freedoms they enjoy. A color guard from the local American Legion presented the American flag. Students also conducted a POW/MIA ceremony to honor those who served but have not made it home. Veterans from each branch of the military were honored with the playing of their branch's song.
Thank you to all our veterans for their service and sacrifice for our nation!
For the portraits of veterans and their families, please click here.
Also, please see below for a video of the ceremony!