With changes in workforce strategies since the pandemic, and a shift to digital, FBLA students are proving they are the future of business. This year's competitions have all been virtual and Middleburgh students have been tough contenders. 
I spoke with FBLA President Sofia Falco and FBLA Advisor Mrs. Denise Colistra on Zoom about the exciting opportunities that the Future Business Leaders of America provides students at MCS.
Sofia Falco is moving on to the national competition on June 21 with the top five winners in every state. If she makes it through to the final round, she will again be competing on June 28. During the state competition, Falco finished third in the Impromptu Speaking event. She qualified for states back in February when she earned first place during the regional contest. 
Julianna Keyser took two written tests and finished in the top five out of all FBLA members in the state in both tests. In Agribusiness, she had the third highest score in the state, and in Insurance and Risk Management, she had the fourth highest score. The top four finishers get to compete at the national competition. Keyser had to choose between competing in one of the two events and she chose Agribusiness. She will take her objective test the week of June 7. Winners for all events and objective tests will be announced on July 1 and 2.
Sarah Schafroth finished first in our region in the Introduction to Decision Making Event in February. This made her eligible to compete at the state level. She finished in the top eight of all state competitors and just missed out on the chance to compete at the national level.  
FBLA Advisor Denise Colistra said, "I am just really proud of the members for the way they went above and beyond this year. With everything being virtual, the students had to give up more of their own time to participate in all of these events as things were held at night, over school vacations, etc. Our students not only participated, but they excelled and should certainly be recognized for that."
Listed below are photos of FBLA members who competed and placed in the regional competition.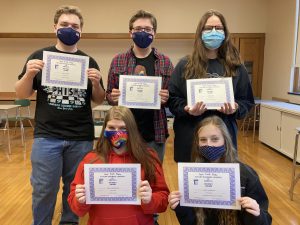 Front row L-R: Chloe LaBombard, 5th place Client Services; Sarah Schafroth, 1st place Introduction to Decision Making
Back row L-R: Shane Smith, 3rd place public speaking; Quin Smith, 5th place introduction to public speaking; Sofia Falco, 1st place Impromptu Speaking
The second picture is Sofia and Sarah (the two first place finishers who moved on in their events to the State Conference.)