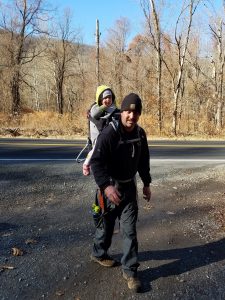 It seems like everywhere you go you hear people talking about how ready they are for it to finally feel like spring. Especially with the mid-April snow storm, frigid temperatures and dreary rainy days, a change in scenery is welcome.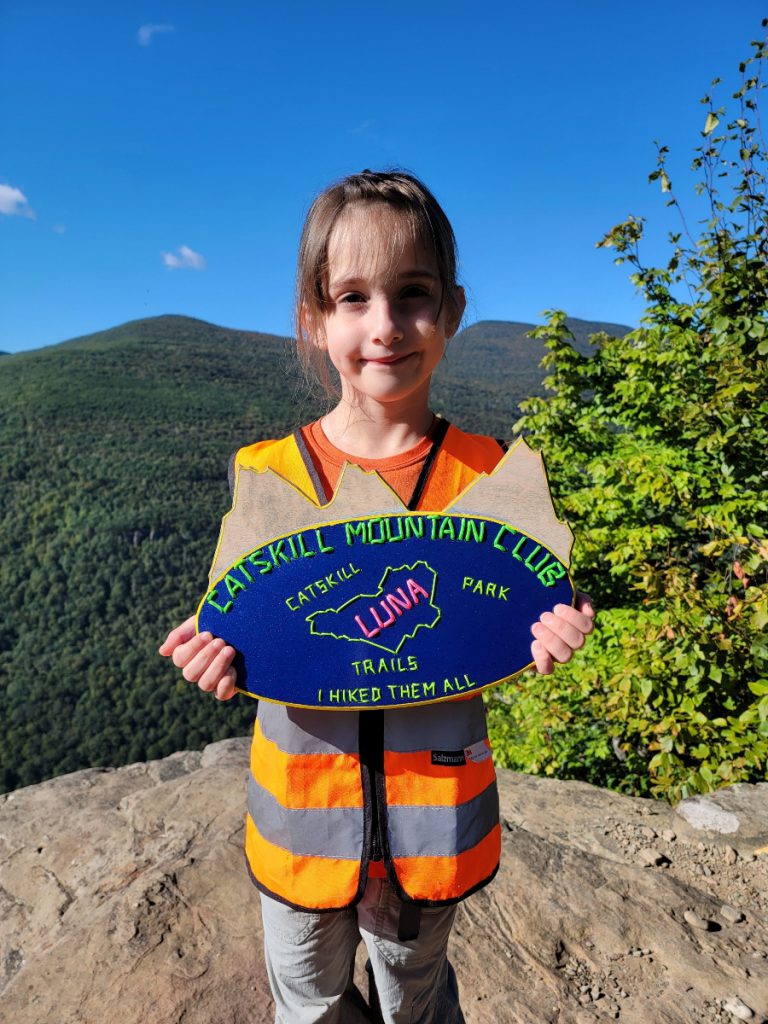 For many, warmer weather entices them out of their homes to explore something new, but there are others who have been seizing every moment of every season, learning about history and making history. Like Luna Pelton, a first grader at Middleburgh Elementary School, who is the youngest and only child to complete every designated hiking trail inside the Catskill Park. Luna clocked 520 miles in September to accomplish the Catskill Mountain Club's All Trails Challenge at six years old.  
"Luna started pretty young. She rode on my back in a child carrier pack, but those don't count toward any of the accomplishments she's done. It was just to bring her along with us," her father Jason Pelton said. 
When Luna got out of the child carrier pack, she started enjoying walking the trails and challenging herself. With her father as her hiking partner, "There were times when we were working on these challenges where we were pushing and hiking a couple times a week – maybe two or three times," Mr. Pelton said. "I did take her out of school a few times to get some hikes because sometimes you gotta go with the weather and it's like, we need to do this today," he said. "There's tons of teaching and learning out there – it's the greatest classroom," Mr. Pelton said. 
Any moment out on the trails is ideal time together, experiencing accomplishments, gaining confidence, and instilling endurance and survival tactics. These hiking challenges come with twists and guidelines. Some call for completing the treks in particular seasons, and scenarios like cooking during one and camping in another. Mr. Pelton says safety is number one, "I've provided her with everything she has needed," like seasonal helmets, safety glasses for the bushwhacks, and even though they haven't needed it yet, "a lanyard she can put on and I can tie her to me if ever needed," he said. It can be tough terrain at times, but it comes with many rewards and teachable moments that will last forever. 
"When we go camping I have to wear a pack on my back that is very heavy, a camping backpack," Luna said. "My dad tells me to be careful not to fall. I can't help it. There are so many rocks on the trail it happens," she said. "She's never gotten injured once in all the hiking we've done," Mr. Pelton said. Not every hike they go on is to set a goal. Sometimes they go out to simply experience the great outdoors.
The trips give the father daughter duo quality time together and access to bask in the beauty of nature. "We went to Vly Mountain and Bearpen Trail and my dad said I don't think you need a backpack today. We went up to Bearpen first, we usually go to Vly first all the time, but it was really good to go up to Bearpen first because the sun was on it. Sometimes we see the sunrise like in the picture. My dad, he takes pictures sometimes. He's like, it's so glorious I'm going to take a picture of it. So we gotta stop. I like the trees all golden from the sun. It's really pretty," Luna said.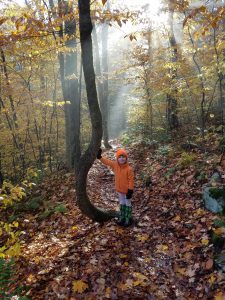 Luna talked about the sound of the wind and trees and knows what she appreciates about each season. Her eyes brightened and she smiled while saying, "All the seasons are my favorite. Winter is my favorite because of all the fun you can do – sledding, snowball fights, building a snowman. Spring – I really like the flowers, butterflies and the birds. Summer because you get to go swimming. Fall because you get to jump in the leaves." She paused, then exclaimed, "Spring is my favorite season, but winter is my favorite season to hike in," Luna said. "My dad made crampons special for me. I need them in the winter."
"Hiking in winter is obviously a lot different than the other three seasons and so is the equipment," Mr. Pelton said. "She had all the equipment since she was like three. They make micro spikes for kids that you can get for their boots, but as far as anything crampon related, nobody makes anything that small so I had to custom make them."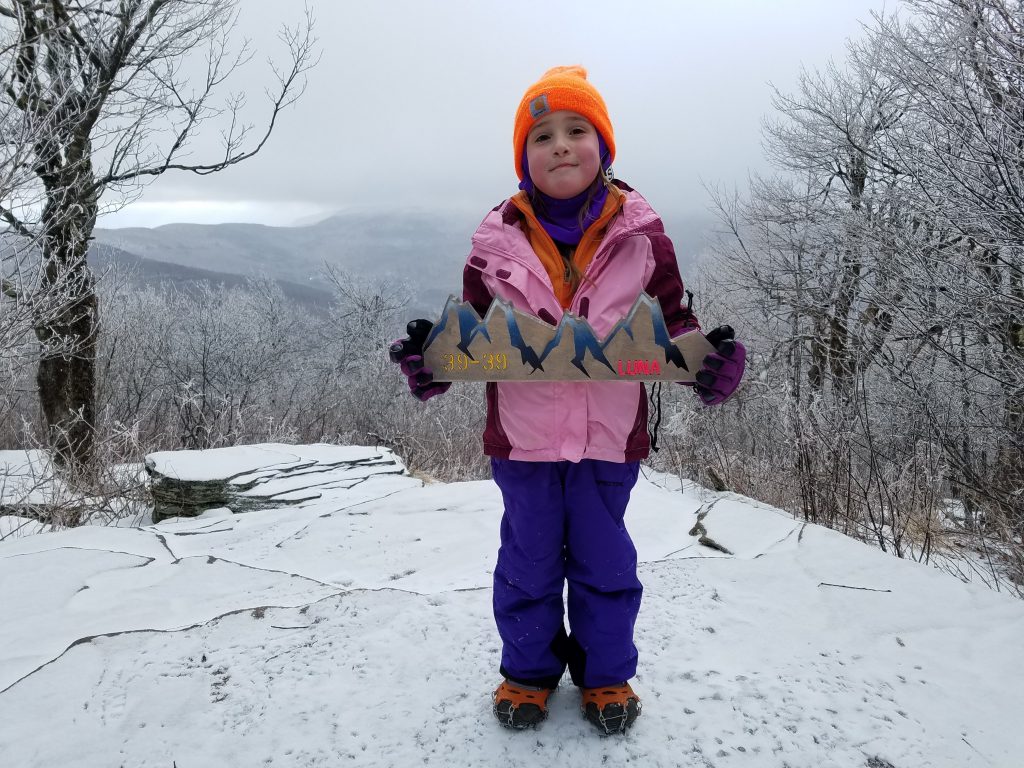 In January 2020, Luna completed her final peak to become a member of the Catskill 3500 Club. She completed all of the Catskill Mountain High Peaks. In five months time, the four-year-old Luna and her dad climbed 39 summits. "There are 35 peaks, but you also have to redo four in the winter season to become a regular member of the 3500 Club — so basically there are 39 summits," Jason Pelton said. 
The following year, Luna became a Winter 35er member, "which is the same club, the Catskill 3500 Club," Mr. Pelton said. "It's basically the same peaks, but all 35 hikes have to be done in the winter season. Luna is the youngest to be a combined regular 35er and winter 35er," he said. 
After becoming a winter 35er – Luna went after a single winter season title from the organization, Hikers Anonymous. For this Catskills challenge, all 35 peaks have to be traveled in the same season. Luna chose winter, and redid 14 summits to accomplish all 35 in a single season. She was five years old.
Now, at seven years old, Luna is working on the Catskill Grids. There are two of them. Seasonal Grid and the 420 Grid. Mr Pelton said, "She will finish the Seasonal Grid first as she is closing in on it. The seasonal grid requires the aspirant to complete all 35 peaks in all four seasons of the year. This totals 140 peaks to complete. Luna has two seasons closed out. Winter and fall. We are currently working on the peaks she needs for the spring season then followed by summer."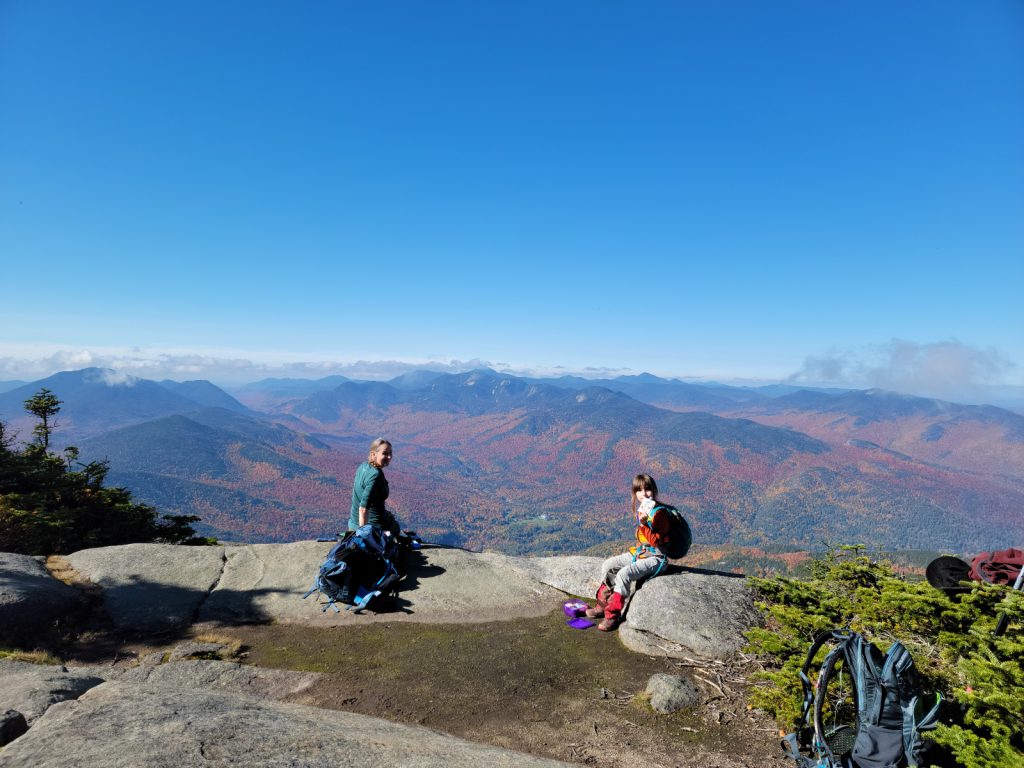 Mr. Pelton said part of it is like a blur, but "I have thousands of pictures and I can look at a set from a hike and it all comes back to me. Just to see her at that age, so small, attacking the mountain and the terrain and the difficulty of it like it wasn't there."
Luna has the drive to reach great heights and has gained a respect for nature that usually comes with age. In all its glory, I asked Luna what she likes most about the hikes. Aside from enjoying time with her dad, she also said, "Being at the top of the mountain eating my snacks." And then you remember, she's a seven-year-old child with a panorama view of life.