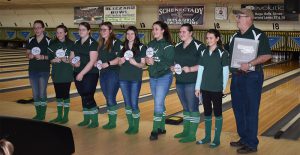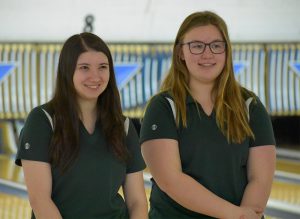 "I wouldn't trade this experience for anything else," said senior Carolyne Shultes. "It's been such a good six years." Good may be a bit of an understatement. Shultes and fellow senior Katie Schuttig have anchored an incredible four year run for the Middleburgh Girls Varsity Bowling team, a run that saw four straight Western Athletic Conference titles, two Section II Class C championships, and two lost games.
You read that right. In four years, Shultes and Schuttig have only lost two games, not matches. And when your number of losses matches your number of Sectional titles, you can call that a pretty good career. "No one had ever gone undefeated until we did it our first year," said Shultes. "And then we went and did it three years in a row."
The team finished 62-2 this year.
As a team, Middleburgh finished their six game set at the Sectional championship with 4,936 pins to win the title, 216 pins more than the second place finisher. "This is a girls team that beats half the boys teams in the WAC," said Coach Richard Shultes. "There were only a few A and B schools that scored higher than they did today."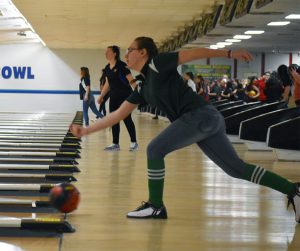 The girls also took home individual honors, with Shultes earning 3rd High Triple (three game series) with a 576. Freshman Jaidyn Rose earned herself the 1st High Triple with a 661. Rose was the second highest triple for the entire tournament, among all bowlers from classes A, B, and C.
Cohoes will be the Section II Small School representative after they scored higher as a team than the Knights. But Rose and Shultes still earned their way to the State Championships in Syracuse. Rose had the highest six game series among bowlers from teams not selected to represent Section II with a 1197. Shultes had the fourth highest with a 1149.
With their six years in Middleburgh uniforms all but over, Shultes and Schuttig say they aren't worried about next year's squad. "I think they're going to do great things without us," said Schuttig. Coach Shultes was confident as well. "I'm looking forward to next year, making it a three-peat."
For Carolyne, she's just excited to put on a Middleburgh Varsity Bowling shirt one last time. "I'm so excited and honored to have been part of this team." The team would say the same about having her and Katie as teammates.