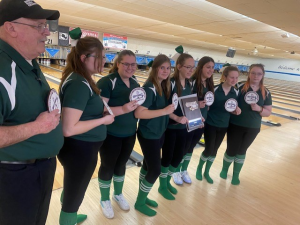 The Middleburgh Girls Varsity Bowling team made history on Wednesday. But it wasn't the Sectional Title Three-Peat that got them into the history books. It wasn't even the near-perfect game by Jaidyn Rose in the afternoon set. The team will be the first Section C school team to head to the State Competition as a team, ever.
In 2018 and 2019, Middleburgh won the Class C Sectionals, but were bested by a Class B school on overall score to represent Section II at States. This year, no school could touch the Knights as they bowled their way to Syracuse.
Over the course of six games, the team knocked down 5,351 pins. That was best in Class C by over 250 pins, and beat the top Class B team, Lansingburgh, by just 48 pins to take the small school title.
Cameryn Shultes had High Series among all bowlers with a 694. In the morning set, Cameryn bowled a 287 single, missing her first strike on the second roll of the 10th frame. But in the afternoon, her teammate did her one better. Jaidyn Rose took High Single for the tournament with a near-perfect 298 in the afternoon session. A perfect score in bowling is 300.
Congratulations to Cameryn Shultes, Jaidyn Rose, Dani Chichester, Qwen Porter, Skyler Hainey, Julia Bingham, and Brianna Diamond, along with coach Rich Shultes, on an incredible season. We're all rooting for you in Syracuse on March 13th!
Also congratulations to Tyler Mann from the Boys Varsity Bowling team. He rolled both High Single and High Series among small schools at Boys Sectionals earlier this week. His scores were good enough to qualify him for the Composite team and head to Syracuse to compete at the State Championships!