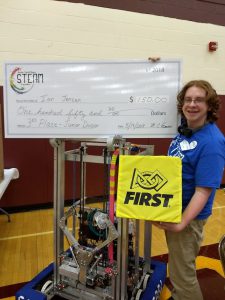 Middleburgh student Ian Jensen, attending the Tech Valley High School Program, participated in the Greater Capital Region STEAM Exposition on Saturday, May 19, 2018 at Colonie High School. Ian presented on and demonstrated the Tech Valley Dragons Robotics Team's FIRST robot "Tip-Z". Ian's presentation focused on a variety of parts within the design process. He first showcased the computer-aided design CAD program that was used to plan and develop the robot. Ian also showcased the programming that was written to control the robot's movements. Lastly, Ian presented new technologies the team implemented on this robot, such as the pneumatic systems that were used for this year's FIRST competition. Ian presented before two groups of judges with each presentation lasting nine minutes and followed by a five minute question and answer session with the judges. Ian placed third in the Junior Division of the STEAM Expo. He is donating the award money he won to the Tech Valley Dragons Robotics Team.
The Tech Valley High School Program is a four-year regional high school collaboration with public school districts. The mission of Tech Valley High is to provide a unique, innovative and student-centered educational opportunity, engage students in current emerging technologies and support the growth and economy of the region.
FIRST is an organization looking to inspire young people to be science and technology leaders and innovators, by engaging them in exciting mentor-based programs that build science, engineering, and technology skills, that inspire innovation, and that foster well-rounded life capabilities including self-confidence, communication, and leadership.