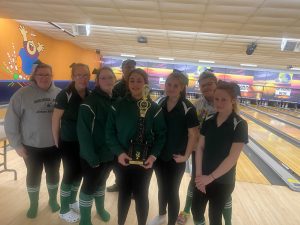 The Middleburgh Girls and Boys Varsity Bowling teams both closed out the season strongly on Monday, as each team finished as runner-up in the WAC Conference Tournament.
The Girls team, who were the WAC Regular Season Champions, racked up an impressive number of awards regular season awards. Those awards included Jaidyn Rose's High Average of 189, Varsity All-Stars with Cameron Shultes and Danielle Chichester, and Rose being named MVP. Shultes also took home the tournament's high single mark with a 224.
On the boys side, they were the league runner-ups after a rocky start to the season. The young team also grabbed an impressive number of regular season awards, including Tyler Mann's high series of 726, Varsity All-Stars Mann and Andrew Miaski, and 2nd Team All-Star Kyle Miller. Mann also took home the WAC Tournament high single with a 238.
Both teams now head to Sectionals. The girls will bowl on Thursday, February 6, and the boys will bowl on Tuesday, February 11.