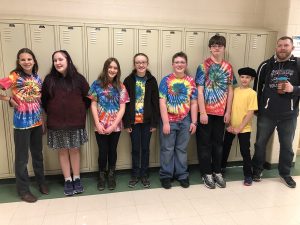 Region 7 of Odyssey of the Mind held their Regional Competition on Saturday, March 2 at Shenendehowa  High School. Middleburgh sent five teams to the competition, four of them competitive and one primary. Teams competed in six different problem areas in four divisions for a chance to advance to the State Competition on March 23rd in Binghamton.
Division 2 Problem 5 team coached by Josh Bornt finished first in the competition and qualified for the State Competition. Quin Smith, Caroline Adams, Tadhg Martin, Megan Bramer, Sienna Kelley, Ava Philips, and Liam Hooper make up the D2P5 team. The Division 1 Problem 4 team coached by Rachel Giles finished third. Jackson Shaw, Austin Sperano, Keira Hall, Kalynn Layton, Amara Giles, and Kingston Ryan make up the D1P4 team.
Other teams that competed were another Division 2 Problem 5 team coached by Rebecca Shaw with students Eric Pickering, Bri Devlin, Lucas Shaw, Kaelyn Jenson, Bailey Hughes, Raeanna Ward, and Michael Ryan, a Division 1 Problem 5 team coached by Maria Funiciello with students Massimo Funiciello, Gio Funiciello, Aiden Moyle, Delilah Shultes, Evelyn Kelley, Brooke Devlin, and Lily Corbet. The Primary Team, which was non-competitive, was coached by Scott Madden with students Winry Madde, Ana Madden, Collin Layton, Angelina Ciafardo, and Tim East.
Odyssey of the Mind is an international educational program that provides creative problem-solving opportunities for students from kindergarten through college. Team members apply their creativity to solve problems that range from building mechanical devices to presenting their own interpretation of literary classics.