Getting to Know Heather Dugan
Heather Dugan recently joined the Elementary School as a Keyboard & Office Specialist. She is an alumni of the district and graduated from Middleburgh High School in 2009. 
Before joining our team, Heather previously worked as a Secretary at Head Start and Schoharie Central Schools.   She has an Associate's Degree in Business and a License in Cosmetology and also volunteers as a Girl Scout troop leader.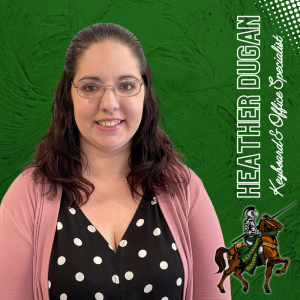 "I am responsible for daily attendance and bus notes.  I am frequently communicating with families," Heather said.  "I also am in charge of building use scheduling & purchase requisitions, when needed."
Heather's  favorite book is Twilight and her favorite time of the year is Fall. She is a mother of two and says, "They keep me busy with all of their activities.  We love family movie nights and game nights."  
Question: What do you look forward to in your work at Middleburgh?
I look forward to building relationships with Middleburgh Central Schools students, families, and staff!
Question: What are your favorite hobbies?
I love scrapbooking and making photobooks. I also love doing dip powder nails.
Question: Do you have a motto?
"Happiness can be found even in the darkest of times, when one only remembers to turn on the light." – Dumbledore