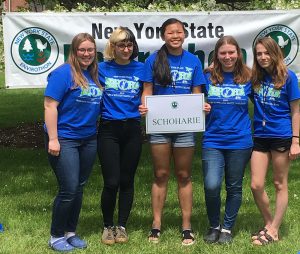 Middleburgh's Envirothon team "Extra Trendy, Eco Friendly" competed at the state competition, taking home three top five awards. The team earned the trip after placing first in the Capital Region Envirothon earlier this month.
The team competed in five different categories. All placements are out of the 46 counties that were attending:
Oral Presentations: 16th overall
Overall Placement: 12th overall
Current Issues: 4th place for presentation on Technology in Sustainable Agriculture
Aquatics: 3rd overall
Geocaching: 1st place overall
Congratulations to the team and Ms. Burgett on an incredibly successful year!