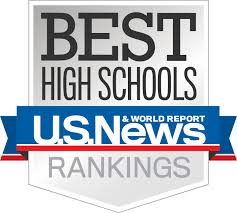 Middleburgh High School ranks in the top third of all U.S. and New York State high schools, according to U.S. News & World Report's 2020 list of high school rankings.
Nationally, Middleburgh placed 4,824th out of 17,792 schools.  
Middleburgh ranked 401st out of New York State's 1,342 schools in the 2020 rankings, which include traditional, magnet and charter schools.
Additionally, Middleburgh ranked 14th in the listing of all metro Albany area schools.
In its scorecard of 72.89, U.S. News noted the following:
The school has an 89 percent graduation rate**
**(Note: data used in this 2020 ranking report was 2018 data; the school's 2019 graduation rate was 95 percent)
     46 percent of students took at least one Advanced Placement (AP) exam
     28 percent passed at least one AP exam
     87 percent of students demonstrated mathematics proficiency
The high school's admirable national rankings included placing 3,442th out of the 17,792 nationally ranked schools for college readiness; tied for 4,310th place for college curriculum breadth, 7,359th place for math and reading proficiency; and 11,270th place for math and reading performance.
Statewide, Middleburgh placed 332nd out of the 1,217 New York State schools for college readiness; 393rd place for breadth of college curriculum; 503rd place for math and reading proficiency; and 772nd place for math and reading performance.
"For a district of our size to be given such a distinction through this national ranking is a testament to the hard work and commitment of so many people," said Superintendent Brian Dunn. "Our faculty and staff are committed to our students' academic success and work very hard to ensure all our students are college and career ready. We also acknowledge our hard working students for their commitment to their personal academic excellence. And, none of this would be possible with the support of our students' parents and our Middleburgh community."
Mr. Dunn stressed district's faculty and staff work very hard to increase student success measurements in everything they do.  
"We know there's more work to be done to further increase these numbers," he added. "The district is committed to making sure we do everything we can to make certain Middleburgh is a preeminent district in the greater Capital Region, New York State and beyond."   
 In total, U.S. News rankings include data on more than 24,000 public high schools in 50 states and the District of Columbia.
U.S. News collaborated with North Carolina-based RTI International, a global nonprofit social science research firm, to rank high schools across the nation based on six indicators. Weighed most heavily in the calculations were college readiness, math and reading proficiency and math and reading performance. After tallying, they then computed for each school a single zero to 100 overall score reflective of performance across these metrics