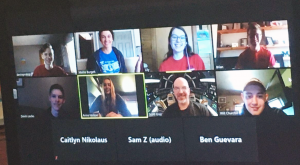 Congratulations to the Middleburgh Jr./Sr High School team, which recently earned ninth-place honors at the virtual New York State Envirothon competition, demonstrating that tenacity and resiliency play huge roles in not only contests like this, but in life.
"Anna Hooper, Will Churchill, Ben GC and Devin Lacko had another great performance and another great triumph in problem solving when their team captain Devin (who was in charge of screen sharing the exams, entering answers and submitting the tests) was kicked off the internet in the first three minutes of the first exam," said advisor Mollie Burgett. "Within four minutes they had switched 'captains,' restarted the test and finished it with 20 seconds to spare, all while Devin was forced to stay in the Zoom waiting room, as per competition rules after leaving during the middle of a test."
The team, representing Schoharie County,  earned 60/100 in aquatics; 32/100 in current events; 52/100 in forestry; 48/100 in soil/land use; and 44/100 in forestry.  
'Rock stars'
The team's participation in state competition followed its "rock star" performance at regional competition. Middleburgh was two of only 29 teams statewide to participate, which Ms. Burgett said was representative of the district's commitment "to shine in the face of adversity."
"Sam 'double Zoomed' with two devices because one would not do audio and the other lacked a camera," said Ms. Burgett. "Caitlyn babysat her young nephew and played hide and seek and dinosaurs while simultaneously debating science topics. Shout out to Susan Peter and Matt Bender whose praises the students sang multiple times for teaching them various soil and

chemistry topics."
Ms. Burgett also recognized Izzy Skowfoe, Ania Keidong, Haylee Dugan, Grace Schifferdecker, Emma Birsen, Mark Ciafardo and Serenity White-Woods for their involvement in the club this year.
Envirothon is a hands-on competition where students compete in teams against other schools in the topics of forestry, wildlife, soils, aquatics or a current issue.
A long history of natural resource conservation and environmental issues awareness
Competitions first began in 1979, when  the Pennsylvania Association of Conservation Districts sponsored the Envirothon program under the name of Environmental Olympics. A year later the program's name was shortened to Enviro-Olympics. The program was designed to be a hands-on outdoor competition for high school students that would encourage them to become interested in natural resource conservation and environmental issues. To accomplish this, the program tests the students' knowledge of aquatic ecology, forestry, soils, wildlife, and current environmental issues.
The name Enviro-Olympics was changed to Envirothon in 1988. Also in 1988, Pennsylvania held the first National Envirothon. In 1990 a National Envirothon steering committee was created and a working relationship with the National Association of Conservation Districts was established. The third National Envirothon was held that year in Ohio. Maryland and New York participated for the first time.
This year's topic was water resources management: local control and local solutions. There is typically an oral presentation that teams give before a panel of judges, but that was canceled to the pandemic.
Students are asked to identify trees, animal sounds, tracks and pelts, soil types, read soil maps, understand and apply tools and units of measurement used by foresters, take water samples, know common invasive species and organism diseases. Every county in the state holds a competition and winners at the county move on to the state level.
To learn more, visit: http://www.nysenvirothon.org/