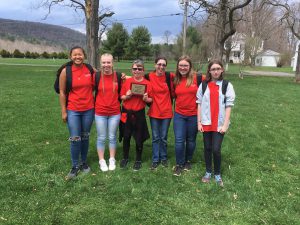 Four Middleburgh teams competed at the Capital Region Envirothon on May 3rd. The Middleburgh team "Extra Trendy Eco Friendly" took top prize for Schoharie County, qualifying them for the State competition later this year. Another Middleburgh team took home the top oral presentation score.
Another one of our students also competed and will be going to the State competition. 11th grader Lillian English competed with a team that works with the Schoharie River Center in Burtonsville, NY. That team took home first place for the entire regional event, and will represent their county at states as well.
The Capital Region Envirothon is an outdoor, hands-on environmental competition for high school students. The program is designed to encourage students to become interested in natural resource conservation and environmental issues. The competition, held each spring, tests the knowledge of each team in the categories of: Soils/Land Use, Aquatic Ecology, Forestry, Wildlife and Current Environmental Issues.
The Capital Regional Envirothon consists of teams from Albany, Montgomery, Rensselaer, Schenectady and Schoharie Counties. The winning team from each county goes on to compete at the state level, which in turn determines the New York State representatives at the National Envirothon.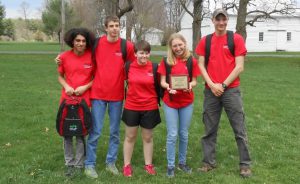 To learn more about the Capital Region Envirothon, click here.