The 2022-23 school year has marked the beginning of a new approach to meeting the social services needs of Middleburgh Central School District students. Based on conversations with its community partners, MCSD secured the services of two licensed master social workers to support students' social-emotional development and positively impact the entire school culture.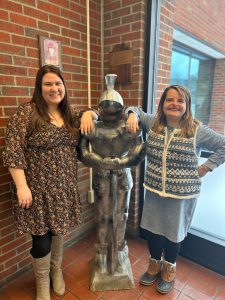 Serving at the Middleburgh Jr./Sr. High is Sierra Diamond. The licensed master social worker was born and raised in Schoharie and admits she is a little biased about how special her hometown community is. 
"I'm thrilled to be here. I love filling the students up with encouragement and bringing them the tools they need to be successful," Diamond said.
Kaylin Thonnesen, who is also a licensed master social worker, serves the needs of elementary students. Thonnesen was also raised locally and is also excited to be working in Middleburgh. 
"I love being a social worker. I take pride in supporting my colleagues and students in my role at MES. Relationship development and commitment to helping students get what they need to be successful is how I hope to contribute to the community," said Thonnesen.
To become a New York state licensed master social worker, one must earn a master's degree in social work  from an accredited graduate school. Licensing also requires three years of post-degree supervised experience. 
Diamond and Thonnesen are providing extensive services to MSCD students. Each week, they provide one-on-one counseling with students to help them navigate interpersonal relationships, resolve peer conflict and build emotional regulation skills. They work with faculty and staff, supporting teachers in group-work training and instructing teaching assistants in behavioral management, de-escalation techniques, active listening and more. In addition, they are the district's liaisons for New York State Department of Social Services and Child Protective Services.
Their offices are designed to meet the needs of students. Each space is adorned with messages of encouragement and student art. There is a "Calm Corner" where Jr./Sr. students can go to decompress if they are having a difficult day.
Additional work by the new social work team involves collaborating with community partners to create a holistic approach to supporting Middleburgh students. For example, MSCD students receive positive reinforcement through the Creative Connections program. Students are offered such incentives as guitar, karate, or horseback riding lessons through the program. These positive learning experiences are an extension of the care and support they receive during the school day.
In collaboration with the Joshua Program, the social work team administers the Backpack Program. Each Friday, students in need are sent home with food so that none are in danger of going hungry while they are away from school.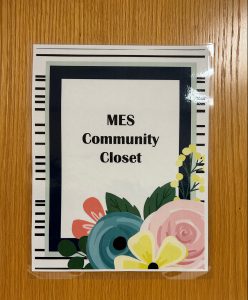 New this year is the Community Closet. Both Diamond and Thonnesen are especially proud of the new initiative. While the Middleburgh Jr./Sr. High School already had a partnership to supply students with essential supplies, such as soap, pencils and gloves, such resources were not previously available at the elementary school. The Community Closet was created to fill that need. The program got off to a great start with many donations this fall, but currently supplies have dwindled.  A list of needed supplies is below.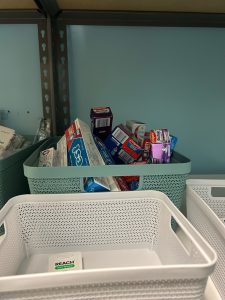 Please email Diamond or Thonnesen with any questions or for information about donating to the programs.
Community Closet Donations Requests 
Hand lotion (unscented, travel or smaller size) 

Underwear (assorted sizes, both boys' and girls', men's and women's sizes)

Socks (assorted sizes, boys', girls', men's and women's sizes) 

Insulated gloves

Insulated mittens 

Jr. size maxi pads

Backpacks (unisex)

Chapstick 

Lunch boxes

Water bottles

Face soap 

Shampoo 

Conditioner 

Floss

Mouth wash

Body wash 

Washcloths/Puffs

Hair brushes

Combs

Hair ties

Detangler 

Men's deodorant 

Women's deodorant 

Small zip pouches for travel items 

Travel size tissues 

Hand sanitizer 

Size 4 or 5 boys' underwear

Black leggings in child and adult sizes