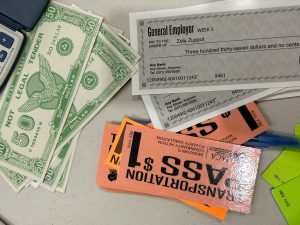 On Aug. 30, the entire MCS faculty and staff participated in a poverty simulation. Administrators at MCS organized the activity to help illustrate how poverty can create a barrier to learning and what steps may be taken to support students.
During the two-hour session, teachers and staff were divided into family groups. Each family was given an income based on full or part-time work and other support, and each family group had a set of monthly expenses. Each group had to try to stay financially solvent through the end of the month. The role-playing included stations that represented aspects of a community, including: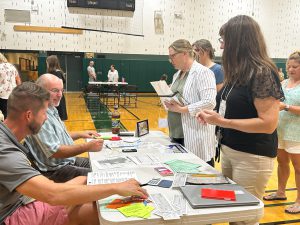 Community healthcare agency 

Homeless Shelter/Interfaith Services 

Mortgage and realty 

Pawnshop 

Payday advance 

Police Department/Jail/Juvenile Detention Hall 

School 

Social Services 

Utility Company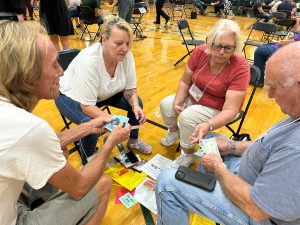 The exercise comes as many MCS households are struggling with poverty. Over 50% of MCS households are currently eligible for and receiving financial assistance.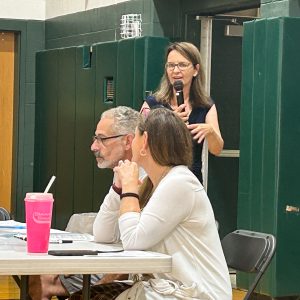 Dr. Valerie Lovelace, executive director of the Greater Capital Region Teacher Center, led the poverty simulation. She says it can be an eye-opening experience.
"For most of the people who participate in the simulation, they will forever see things differently when they go to the grocery store," said Lovelace. "Learning about students living in poverty is a never-ending need; situations are always changing."
While the simulation lasted only a few hours, it resulted in MCS faculty and staff contemplating new ways of doing things. One teacher remarked that the simulation's emphasis on the role transportation plays in students' lives will have her looking for new ways to ensure more students can participate in extracurricular sports. Another observation centered on the difficulties some households will experience when they receive a request for extra funds for field trips.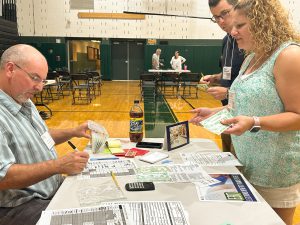 Superintendent Mark Place says the poverty simulation will lead to action throughout the school district.
"We never want poverty to be a barrier to education," Place said. This simulation demonstrates how even small changes in how we do things will profoundly impact our students."
Even before the poverty simulation, MCS began working to eliminate the barriers to learning that can present for low-income households. During the 2023-24 school year:
All students will receive free breakfast and lunch. In addition, any student participating in the Advantage After-School Program will be provided with a nutritional snack each day.

The district is providing school supplies for our Pre-K through grade 6 students.

After-school transportation is available. Beginning Sept. 11, a late bus will run each day with pick up at 4:55 p.m. at the Jr./Sr. building and 5 p.m. at the elementary building. Students must be registered in advance.
MCS continues to provide additional support to our students through the Community Closet and with the help of the Joshua Project. The Community Closet is available to students needing essential supplies such as soap, pencils and gloves. The Backpack Program, supported by the Joshua Project, provides staple food items that students can take home each weekend to ensure they are not hungry when they are away from school.  If you would like to partner with MCS in supporting our students through the backpack program or Community Closet, contact Social Worker Sierra Diamond,
More information about the poverty simulation is available here.