Thanks to the generosity of faculty, staff and students, MCS is helping to make Christmas a little brighter for 60 children this year — more than ever before.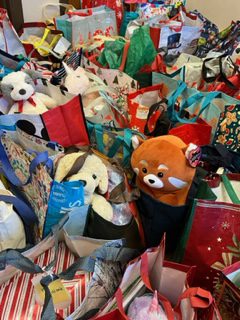 Project Night Night was started to provide homeless children with a bag that provides them with some sense of security and comfort when they leave a shelter. In each bag, a child gets a new security blanket, a new book, a new stuffed animal and a new pair of pajamas.
For the past several years, Middleburgh Central School's Future Business Leaders of America (FBLA) has been working with the Schoharie/Otsego County Community Services to provide Night Night bags at Christmastime for some of the neediest children in our county.
Last week, staff from Schoharie/Otsego County Community Services arrived at MCS and, with the help of some business students, loaded up bags stuffed full with gifts and items for children in need ranging from 2 months old to 14 years old. The bags will be delivered to local homes in time for Christmas. Thanks again to all involved!