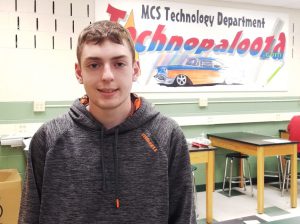 Middleburgh Central Schools senior Derek Mooney has won the GlaxoSmithKline Apprenticeship Scholarship, the second year in a row a student in the MCS Technology Department has received the award.
Derek competed against students from area schools for the scholarship, and had to go through a four part application process: an interview, a two-phase hands-on performance task, and a presentation.
With the scholarship, Derek will take part in a hands-on apprenticeship program for four years as an automation technician. He will either spread a two-year program at HVCC out over four years or go to HVCC as a full-time student and continue on to finish his bachelor's degree during his apprenticeship with GSK. While at college, he will be paid a full-time competitive strategy while working eight hours a week and a job offer once he is done with school.
Ethan Keidong was awarded the scholarship last year and finished his first year at HVCC with a 4.0 GPA. He plans to continue his education in Electrical Engineering.