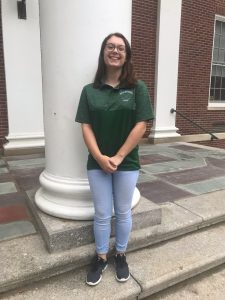 Jr./Sr. High School senior Lily Rossmann will be representing Middleburgh at the first-ever Section II Girls Golf Tournament on Friday, October 11 at the Fairways of Halfmoon Golf Course. "I feel very honored to be representing my school in the first ever golf sectionals," said Rossmann. " I'm also very excited to play with the other girls in this section, as I have become friends with many of them throughout the season."
Rossmann has been golfing for Middleburgh since 7th grade and began playing in matches last year. This year, she has only lost a single match, winning seven.
Another exciting part of being a competitor in the first-ever Girls Sectional Golf Tournament for Lily will be meeting LPGA Hall of Famer and Saratoga native Dottie Pepper. "I am very excited to meet Dottie Pepper as she is a LPGA legend in this area and has paved the way to allow women to be recognized in school golf."
We also want to congratulate John Bruno, who qualified to compete in the Boys Sectional Golf Tournament on October 8th. Best of luck to both of you!