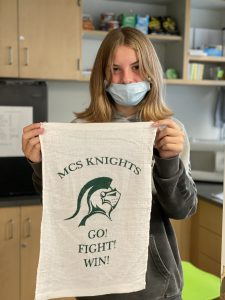 It's spirit week and the school store is stocked with supplies. Get your rally towel for the Homecoming games this week for just $3.00, short sleeved and long sleeved shirts and sweatshirts from $15.00-$25.00, coffee mugs, and more!
The Armory school store, located in the library of the Jr. / Sr. High School also sells snacks, drinks and school supplies! The Future Business Leaders of America runs the store daily. The prices of items are low for the students. Any profit made goes toward conference fees for FBLA events. 
You can get water and Capri Sun for 50 cents and green tea for $1.00. The food sold ranges from 25 cents to $1.00 — and the offerings are fruit snacks, chips, popcorn, crackers, granola bars, ice cream, mac and cheese, Uncrustables, and Hot Pockets. Other supplies like index cards and tissues are also sold at the school store. 
Fall Store Hours

Second period – BDF days 

Third period – ACE days

11:18-12:00 – ACE days

12:00-1:15 – daily 

Eighth period – BDF days