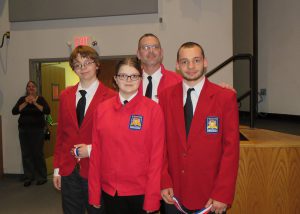 More than 40 Capital Region BOCES Career and Technical Education students showed their in-depth knowledge of the skilled trades and earned medals at the regional SkillsUSA competition Wednesday, March 20 in Schenectady and Scotia. By doing so, the 11 first-place winners and many of the other medal winners earned the right to advance to the state SkillsUSA competition in Syracuse next month.
 
The students, who hail from school districts as far-reaching as Cohoes and Cobleskill-Richmondville, showed expertise in their areas as diverse as carpentry and commercial baking and diesel engine repair and networking. They competed against their peers from Questar III and other BOCES during a day filled with events at Schenectady County Community College (SCCC) and Stratton Air National Guard Base.
 
The state SkillsUSA competition will be conducted April 24-26, 2019 at the New York State Fairgrounds in Syracuse. Winners of that event will advance to the national competition in Kentucky in June.
 
"Congratulations to our competitors at the area SkillsUSA Competition. They all did a fantastic job and we are very proud of them," said Valerie Kelsey, deputy director of Capital Region BOCES Career and Technical Education.
This year's regional SkillsUSA medalists from Middleburgh and the competition they placed in are as follows:
First Place, Team of Thomas Cressimanno, Middleburgh, Jon Philipp, Cobleskill-Richmondville (CRCS) and Paiten Smith, CRCS, – Crime Scene Investigation
Second Place, Emily Elsis, Middleburgh, Precision Heavy Equipment
Fourth Place, Patrick Hoop, Middleburgh, Auto Service Technology
Congratulations to all our students who competed!