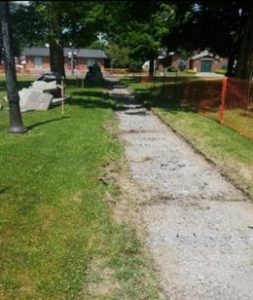 Plans are continuing this week on walkway repairs and replacement at Middleburgh Jr./Sr. High School and Middleburgh Elementary School, as part of the district's $15 million capital project work.
In the context of the capital project, two trees were identified as a threat to the new sidewalks and three additional trees were identified as safety hazards.
"It's been confirmed by arbor experts that these trees were problematic for either structural or safety reasons said Superintendent Brian P. Dunn. "While this is unfortunate, removing them now also allows for the best possible installation and long-term maintenance of the new walkway footings and foundation so that the new sidewalks stay in the best possible shape for years to come as well as improved safety of our front lawn.
"We are very much aware and respectful of the environmental and aesthetic importance of mature trees," Mr. Dunn added. "A very thoughtful review took place when making this decision. We're looking forward to continuing our work with our landscape architects to finalize a replacement plan for these trees which will provide beauty, shade and teaching opportunities on our campus for generations of students and staff."