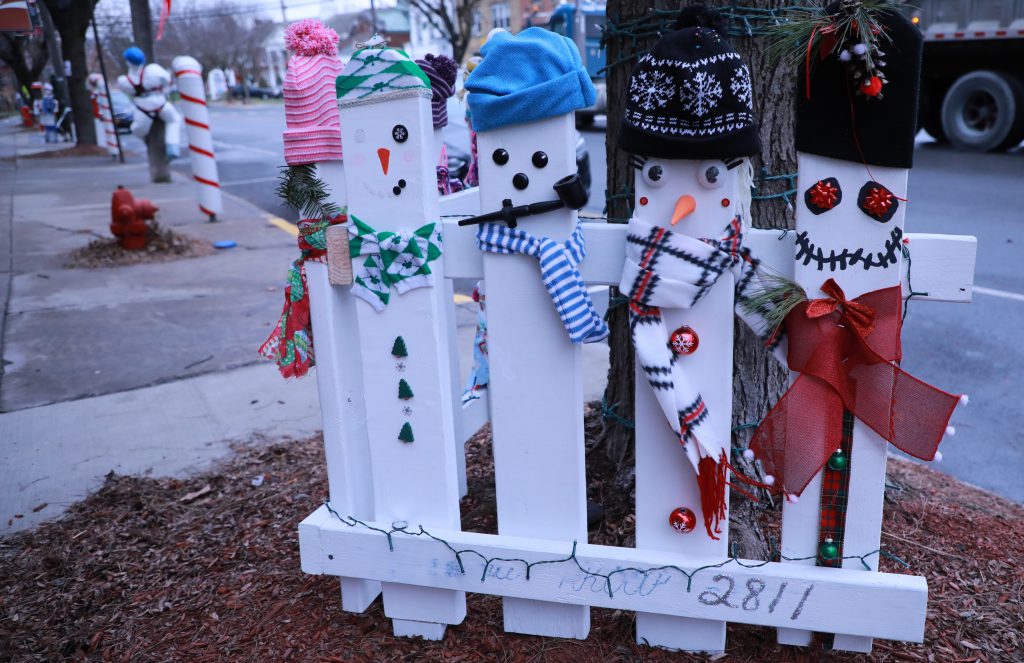 Snowmen lining the street and candy canes covering the parking meters are signs it's the holiday season. Main Street shops are dazzling and within just a few feet, the high school courtyard, lit up with help from the Booster Club and FFA, takes center stage. The holiday tree, donated by Lisa Tenneson, and the gorgeous wreaths from MCS Roundtable that were made by Bill Hanson and Heather Gasner, welcome all who enter with a sense of familiarity.
Head of MCS Buildings & Grounds, Steve Weinhofer picked up the locally grown tree at Borst Tree Farm and positioned the holiday symbol in a key area in front of the school. The Booster Club purchased lights to wrap the tree and the posts. "We felt that with all of the challenges this year it was important to provide some holiday cheer," MCS Booster Club Treasurer, Wes Andrew said. "The lights were put on the tree by Rachael Hamm, Scott Olsen, Sidney Andrew and myself. We look forward to this continuing in the future. We would also like to thank Brian Dunn for allowing us to choose bright and festive lights."
A new display this year was donated by Jack Miller Tractor, "spreading holiday cheer through the Middleburgh FFA Chapter," said Principal Matt Sloane. "The idea of a decorated tractor was a collaboration between Mr. Sloane and myself," FFA Advisor Carmen Fagnani said. "It is common among FFA chapters to decorate a tractor for the holidays, and we thought it would be a great way to promote the Middleburgh FFA program." FFA officers Kaitlyn Wood, Julia Bingham, Suzanna Malinowski, and Logan Chichester helped decorate the tractor with lights donated by community members and staff. The Middleburgh FFA also adopted a local family for the holidays. Ms. Fagnani said, "This was my students' idea, and I am very proud of their generosity and kindness."
"With the most recent historic snowstorm, Middleburgh shines with holiday spirit! Wreaths, lighted trees, lampposts and a tractor-our campus radiates all of the hope and promise that comes with the arrival of the New Year," said Superintendent Brian Dunn. 
These signs of holiday spirit are uniquely suited for this time of year. But the hope this season brings is what we have anticipated all year, some semblance of normalcy and the ability to see light on the horizon. The year 2020 has been complicated in a lot of ways. We've had to learn to live differently under pandemic guidelines. However, overcoming obstacles continues to make us all stronger. Thinking differently allows us to be creative innovators. Staying positive not only helps our own perspectives, but of those around us. Doing this together sharpens our resilience and expands our line of sight to see the big picture. And that is beautiful.
"Let's remember in the hard times that if we stick together as a community, care for one another, love one another, and trust one another, there's nothing we can't get through," said Lisa Tenneson of Four Star Realty Group. Tenneson donated the holiday tree outside the high school, and recorded the lighting ceremony for the community via Facebook Live. "Last year we had a tree lighting, we organized it and had everybody outside. The school had the music department playing carols. It was huge and we are hoping to get back to that next year," Tenneson said.
It's the season that has its own music and carols, yet it's a time where we can't sing together, or play instruments the way we used to. But that doesn't mean MCS students who would have performed in annual winter concerts won't be able to be heard.
Dedicated and energetic music educator, Katherine Hudson-Sabens has been able to safely distance small group band lessons for her elementary students. "This allowed us to get creative with how we shared our music," said Hudson-Sabens. "While music has its own intrinsic value, one of the highlights of playing an instrument is getting the opportunity to perform for an audience. It was important to me that all students still had this opportunity this year, whether they were studying their instruments at school or at home."
Hudson-Sabens recorded the small group and individual lessons, then combined the tracks together, and added pictures to give the students and families a memory of a performance they would have otherwise attended in person. We can listen to the holiday sounds through the instruments of the 4th-6th grade band. Here is their virtual 2020 Winter Concert.
This year, two MCS students joined the ranks of their local community chorus, The Schoharie Valley Singers. High school senior Shane Smith and his 9th grade brother Quin, blended their vocals with 35 other exceptional singers for the virtual holiday concert performance, "Brightest & Best." 
The Schoharie Valley Singers dedicated their performance to "all the doctors, nurses, first responders and essential workers that have kept our country going during the COVID-19 pandemic," said SVS Artistic Director, Ben April. Due to the COVID-19 safety protocols, the songs were learned, practiced, and recorded virtually. April explained, "The concert consists of three pieces, each rehearsed and performed by the singers in their homes and compiled into one performance." April is also the MCS High School choir director and says he is planning a collaboration between SVS and his students in March for Music in our Schools month. They will be doing one song together in the same virtual format. 
It's a season for giving — of time, of talents, of resources… and the Middleburgh school community is living proof that simply one act of kindness can shine throughout the village and impact an infinite amount of people, and other living things. Every year, elementary students decorate the Village Memorial Park for the holidays using bird-friendly ornaments. This year was no different. The creative winter tradition provides food for thought to Pre-K through fourth graders and the whimsical decor is festive and amusing.
Thoughtful contributions from the MCS faculty and staff like the Project Night Night gift bags helped to facilitate the thrill of gift giving and receiving. Organizer and FBLA Advisor, Denise Colistra said, "It is really heartwarming to see our school community generously come together every year to help the Community Maternity Services of Schoharie/Otsego Counties make Christmas a little more special for some struggling families."  Similarly, students in the National Honor and Junior Honor Societies have shown their holiday spirit by collecting Toys for Tots in order for many children in our local area to receive a holiday gift. These students continue to impress us with their commitment to service.
When we walk around in our day to day lives, there are always signs that trigger something within us. Sometimes these memories conjure up warm feelings, and sometimes they don't. We are mindful of the struggles people around us may be going through this holiday, for whatever reason. We all walk different paths. However, when we choose to focus on the positive signs and efforts from our neighbors, the paradigm can often shift.
All these signs of the season are Middleburgh's message of hope, of moving forward, of celebrating the holidays safely as a collective group of human beings. For those of you who are being examples of light, we hear you, we see you, and we thank you.