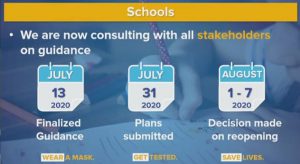 Today, July 8, Gov. Cuomo set the first week of August as a deadline for the state to make a decision on the reopening of schools.
On July 13, the state will issue its finalized guidance on reopening schools in the fall.
Middleburgh is among the 700 school districts who will have until July 31 to make any adjustments to their fall reopening plans and submit them to the state.
Based off of the plans and incoming health data, the state will make a decision during the week of Aug. 1 through 7 if and when schools will reopen in the fall, the governor said during his media briefing.
"As we see, a week can be a lifetime with this COVID virus because everything changes so quickly," Gov. Cuomo added. "We'll look at the data in the first week and we'll make a decision."
Additionally, he declined to say whether the decision will be a "global" one or made on an individual/regional basis.
As the district awaits that guidance, Middleburgh is continuing its intensive review of various school reopening scenarios and will continue to communicate updates to you as our work continues.