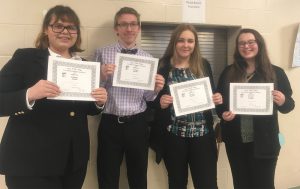 Nine members of Middleburgh's Future Business Leaders of America Club competed at the District Conference on Wednesday, with four of them bringing home awards. The students that participated were: Floyd Armlin, Sofia Falco, Matthew Guevara-Chancey, Taylor Hoop, Abigail McCarron, Autumn Miller, Angelina Reinhart, Holly Rossmann, and Lily Rossmann.
Four of the nine students brought home awards after placing in the top five in their events. Holly Rossmann placed 5th in the written Business Calculations test. In the Basic Decision Making elimination event, Sofia Falco placed 5th. In the Client Service elimination event, Abigail McCarron placed 5th. In the Impromptu Speaking elimination event, Floyd Armlin placed 4th.  
Six members are hoping to attend the State Conference in April.