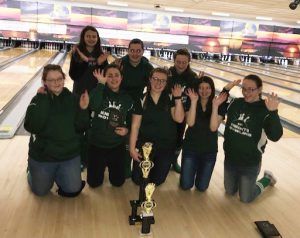 The Middleburgh Girls and Boys Varsity Bowling teams capped off extremely successful WAC seasons at the WAC Tournament over the weekend.
Middleburgh Girls Varsity Bowling were named WAC Tournament Champions with a score of 2607, which was 294 pins higher than the 2nd place finishers. Carolyne Shultes had High Series for the tournament with a 635, while Jaidyn Rose had High Single with a 246.
For the boys, Andrew Miaski had High Single for the tournament, bowling a 235.
For the season, Middleburgh Girls Varsity was named WAC League Champion, Jaidyn Rose had the season's High Series with an 811 and Carolyne Shultes had the season's High Single with a 255. Carolyne Shultes, Jaidyn Rose, and Cameryn Shultes were all named to the Varsity All Star team. Julia Bingham was named to the 2nd All Star Team.
On the Boys side, Tyler Mann scored High Average for the year with a 201 and Andrew Miaski got High Series for the year with a 756. Mann was named WAC Boys Varsity All Star and MVP while Miaski was named to the Varsity All Star team.
Congratulations to both teams on their accomplishments! The Girls Varsity Team bowls in Sectionals Thursday, February 7 in Schenectady, while the Boys team bowls Monday, February 11 in Schenectady. Best of luck to both teams!