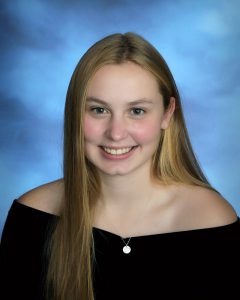 Salutatorian, Anna Hooper: I am a member of Interact, as well as National Honor Society and Envirothon. I have also participated in Youth As Leaders and have been on the varsity volleyball team. I also ran track and field for a few years. 
What you want people to know about you: I love ice cream and I actually really do enjoy reading. 
Career goals: I plan to study English next fall. I am not sure exactly where I want this to take me but I am considering teaching, as well as writing. 
Something about the world that concerns you: There isn't much going on in the world that does not concern me. My hope is that we eventually learn to respect each other and the planet. 
Something about the world that inspires you: Artists inspire me. Whether they are wordsmiths, musicians, or painters, I have a lot of respect for people who can take a potentially negative feeling and turn it into something that others can relate to. 
Notable quote: The quote that I chose to put in the year book is "People will forget what you said, people will forget what you did, but people will never forget how you made them feel" by Maya Angelou. I suppose I picked it because throughout my years of high school, I grew very familiar with the notion that people wouldn't know the real me and/or forget about me the minute after graduation. However, if they could recall that I was kind, I figured that would be a pretty good way to be remembered. 
Advice to help other students succeed: Studying seems unappealing but you should always put the time in because you don't want to look back 30 years from now and wish that you had worked harder. You don't have to be a genius to succeed – you just have to try. 
MHS spotlight: A highlight of my time at high school would have to be volleyball. I love the sport and it has been incredibly rewarding to play as our team continues to grow together.