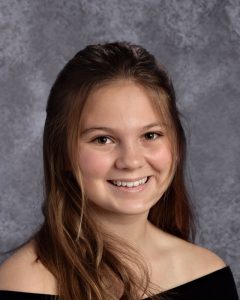 Honor Graduate, Andie Burton: I am a member of Envirothon, Schoharie County Youth as Leaders, and Ski Club. I currently serve as the Middleburgh FFA President, Student Congress Vice President, National Honor Society Treasurer, Class Treasurer, and Interact Project Manager. This year I was a first year participant on Middleburgh/BKW cross country team and am currently playing varsity soccer. In the spring, I will participate in varsity track. In the community, I currently am employed at both Schoharie Valley Farms and Barber's. I also volunteer irregularly at Oswegatchie Educational Center as well as participate in local races and other events.
What you want people to know about you: I think a big part of my high school experience was everything I did outside of the school itself. I was super connected with my friends, my work, and my family. Making time to relax with these people helped me a lot through high school.
Career goals: My current major is going to be environmental science with a minor in exercise science. I hope to work in an environmental field, while also working as a coach or trainer on the side.
Something about the world that concerns you: My biggest concern in the world today is how fast it's changing, whether it's politically, environmentally, or socially. Keeping up is one of the hardest things and I think that's where opposition and controversy arise. I like to stay politically and environmentally updated because I want to be part of the solution even if it is an indirect involvement.
Something about the world that inspires you: I feel inspired by the people in my life and the people in the world willing to speak up and make changes. I love watching the people in my life grow into opinionated, driven, and vocal leaders. I also love watching local, state, and federal leaders that use those qualities on a larger level. 
Notable quote: Theres a quote by Steve Prefontaine that goes something like, "the best pace is suicide pace…" My past track coach told me this quote because after every race I always told him I could do better. As a runner I take this quote literally, but I like to apply it to my other pursuits as well because improvement in anything comes from hard work. 
Advice to help other students succeed: There is such a thing as studying too much. I create plans for myself to study, but it's equally important for me to spend time in other activities. My only advice would be to spend your free time studying when you want to, but not to force yourself to study when your brain is already full from the day. You have to take days off to watch a movie, play a game, play sports, etc. These activities for me were just as important as my academic ones.
MHS spotlight: I found the most enjoyment through my sports and my participation in jazz band. I played the baritone for Mr. Meyer's jazz band for three years. I loved playing the different types of pieces with songs like: Hard to Handle, Superstition, etc.