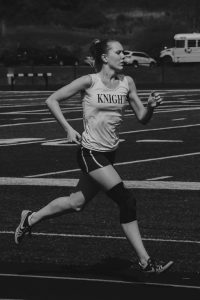 After a frustrating year with injuries, senior Olivia Hamm is once again running at the state qualifiers for Track and Field. Hamm won the Class C 800 meters on May 22nd, posting her fastest time of the year as she heads to qualifiers for the fifth year in a row. But this time it almost looked like she wouldn't make it.
Hamm has been dealing with a number of injuries over the past year. Last year she had a stress fracture in her foot, and got a stress fracture in her shin while playing soccer this past fall. And during the track season she had to wear a knee brace while she was running. All of that combined to make qualifier number five the most satisfying yet.
"It's exciting because I didn't think I'd be able to do it with the injury," said Hamm. She runs against the best from Section II in the state qualifiers at Shenendehowa on May 31st.