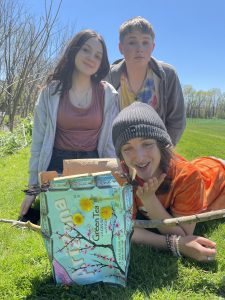 While Mrs. Burgett's living environment class is finishing up their genetics unit about mutations, they used their imaginations and got creative to develop their own.  
Students practiced their knowledge by applying it to "snowmen" genes. Since we don't have snow, students were then challenged to build their "mutated snowmen" with whatever materials they could find outside. Some worked on their creations individually and others worked in groups.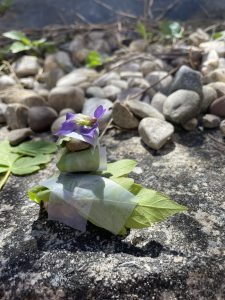 What students said about this challenge:
It was nice because we got to go outside, but we also did stuff related to DNA.

I had fun looking for items to use.

I absolutely loved it and would do it again…like right now.

It was fun. I liked it and it helped teach us variation.

It was hard to make a "snowman" with no snow and in summer, but was funny and can allowed us to be creative.

It was fun to build them, especially trying to find something to make them with.

I liked it. Hands on stuff is easier to learn.

It was fun and mine was the best.

Awwww! It was so fun! I loved seeing all of them. 

Doing it was fun, but doing it in winter would be more fun.

I liked going out and finding things to build snowmen.

If it gets me outside, I like it.

I enjoyed going outside and would 100% do it again.

It was fun and it made working easier.

I liked the activity, it was good for review and it was fun to go outside.

It was fun! It's better when we are working hands-on in an open space!

We should go outside and do that more often.

Mine looked good and it was mad fun.
Check out more photos of the projects on our Facebook page.