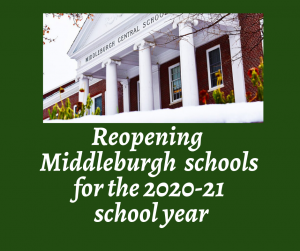 Dear Middleburgh Jr./Sr. High School parents/guardians:
Part of our comprehensive reopening schools planning includes an ongoing review of our instructional framework to be certain we have the best possible scheduling in place. We previously noted we expected there may be modifications to this framework as we neared September.
As part of this evolving, fluid process, our team constantly reviews the equity and fairness of all our decisions in the interest of maximizing student success and achievement and adherence to SED academic requirements. 
Specifically, during this process, we realized that on alternating Green and White days, when matched to our A-F rotating schedule, half of our hybrid students were consistently remote for science labs, P.E., health, academic skills, AIS, agriculture, resource rooms and specials in the middle school. We determined this model did not work.
As a result, we needed to revise this scheduling to ensure equity and fairness.
To resolve the issue, the result is a change to alternating Green and White days to a two-day, back-to-back rotation of Green and White days. (Please see the example below).

This solution allows every student to have an equal amount of in-person and remote learning experiences.
This solution has no effect on transportation or BOCES programs.
We understand there may be some unexpected issues as a result of this change. Please know that is not our intent. We have a responsibility to ensure fair and equitable instructional time is afforded to all students and this adjustment allows for just that.
Thank you again for your continued patience and understanding as our work continues.
Sincerely,
Matthew Sloane
Jr./Sr. High School principal