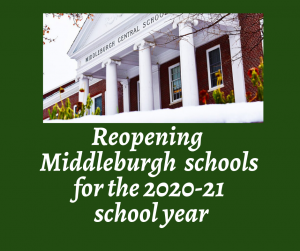 Dear Middleburgh parents/guardians:
COVID-19 supply issues are causing many school districts to revise their reopening plans and unfortunately Middleburgh is not exempt from these matters.
Due to COVID-19 related delays, our Jr./ Sr. High School building will not be ready to open on Tuesday, Sept. 8.
Because of this, there is a change in our proposed reopening plan. From Sept. 8 through Sept. 14, students in grades 5-12 will be attending school remotely.
We look forward to welcoming our Grade 5-12 students back into our building beginning Tuesday, Sept. 15 based on the original instructional schedule, as follows:
Grades 5 to 12 reopening schedule
Tuesday, Sept. 15: Grades 5 and 6 return to every day, in-person instruction at the Jr./ Sr. High School

Tuesday, Sept. 15: Grades 7 through 12 begin their hybrid schedule (in-person, every other day)
Please note that this change does not impact students who are 100 percent remote for the fall.
This change allows our contractors extra time to finish installing important HVAC system upgrades in classrooms and additional time to complete the bathroom and nursing suite renovations. These unexpected delays were caused by delays in production and delivery of essential machinery and fixtures needed to complete the project.
We will continue to provide you with updates on our website and our Facebook page.
Thank you again for your patience and support as we continue our work to reopen Middleburgh schools.
Sincerely,
Brian P. Dunn
Superintendent