Senior Class Officers| Scholarship and College Information| SAT/ACT| Top 5| Student-Athletes| Graduation Information| School and Community Events| Senior Trip| Senior T-Shirts
Celebrating the class of 2024
"Your education is a dress rehearsal for a life that is yours to lead." – Nora Ephron
The Senior Experience page will offer news and information for senior students and their families throughout the 2023-24 school year, including:
Graduation dates and information
School and community events
Scholarship and college information
SAT information
Top 5 graduates
Athletics
Senior t-shirts
… and more!
News will also be shared with parents via the Senior Experience 2024 ParentSquare group.
---
Senior Class Officers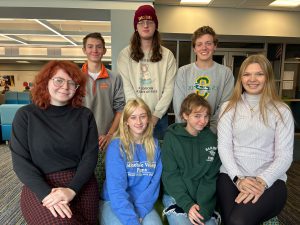 Co-Presidents: Sarah Schafroth, Quin Smith
Vice-President: Liam Hooper
Secretary: Olivia Skowfoe
Treasurer: Tadhg Martin
Representatives: Persephonie Carhart, Laney Heaney
---
Scholarship and College Information
Ms. Jones sent an email to all senior class members with an invitation to join the "scholarships" Google Classroom.  Please accept the invitation.
Information regarding all scholarships and awards will be posted in the Google Classroom only, if you are not a part of it you will miss important information.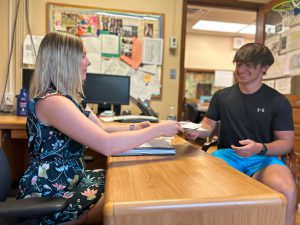 MCS Juniors and Seniors have a number of upcoming opportunities to connect with college representatives at our Counseling Center. These meetings are useful for gathering information, asking questions, and getting a firsthand feel for potential future institutions. 
Students must make an appointment with the Counseling Center to be included in the sessions. Dates and times can be found here.
---
SAT/ACT Information
Seniors, be sure to periodically check the bulletin board outside the main office for announcements on SAT test dates, scholarships, and college representative visits to our school.
SAT TESTING INFORMATION
To register for the SAT, go to collegeboard.org
Cost: $60.00/additional $30 for late registration
ACT TESTING INFORMATION
To register for the ACT, go to act.org
Cost: $68.00/$93.00 full ACT with writing/additional $36 for late registration
---
Top 5
Each year, MCS celebrates the Top 5 academic performers, naming a valedictorian, salutatorian, honor graduate and the students with the fourth and fifth highest academic averages. Details will be posted here when they become available.
---
Class of 2024 Student-Athletes
Middleburgh Central School District recognizes the contributions of our Class of 2024 student-athletes to our community. MCSD believes opportunities to participate in sports during and after school is essential to a well-balanced educational program.  
MCSD supports a comprehensive sports program with equal access for all students, emphasizing maximum participation through interscholastic and intramural activity.
Watch this space for upcoming information about our senior athletes.
---
Graduation Dates and Information
June 5:  Cap and Gown Pick Up/Class Photo
Seniors will pick up their caps and gowns in the library during at 12:30. Seniors will not receive their tassel until they arrive for the graduation ceremony on June 21.  Class Photo will be taken on the front steps at 1 p.m.
June 9: Baccalaureate Service
Details to be announced
June 13: Class Day/Elementary Walk-through
Wearing their caps and gowns, seniors will meet and walk through the high school and then head to the elementary school to meet in the elementary gym. They will walk through the school to share this special occasion with the elementary school faculty, staff and students. The seniors will then return to the high school to assist with Class Day.
June 14: Senior Awards and Recognition Night 
Seniors will be in the auditorium. Event will be live-streamed.
June 20: Senior Breakfast/Graduation Rehearsal
9 a.m.-1 p.m. Additional details to be announced.
June 21: Graduation
Students should meet at 6:15 p.m. in the high school library. The ceremony will begin at 7 p.m. in the high school auditorium. There will be a reception immediately following under the pavilion in the rear of the school, accompanied by a fireworks display.  Due to limited seating, tickets are required for this event. 
Date to be announced: Laptop Returns
Students must turn in their laptops and chargers. Items will be collected in the library "Maker Space" (the lower library level by the math rooms). Any student taking a Regents exam can turn in their device after their test, at any point during Regents week. Seniors will not receive their diploma until their device is returned.   
---
School and community events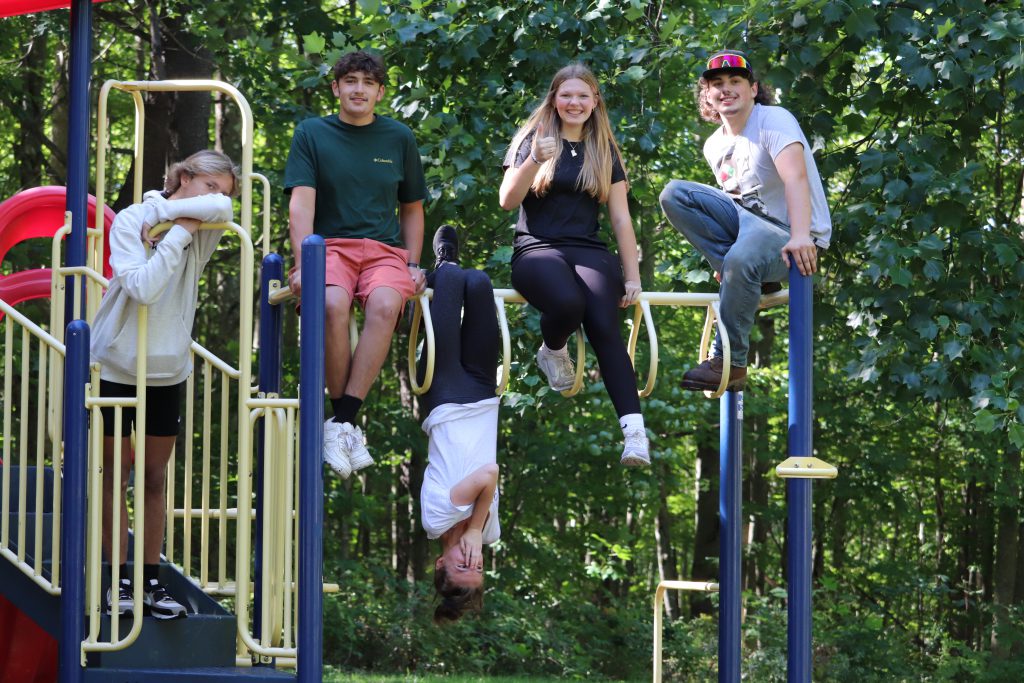 Sept. 15: Senior Class Picnic
Oct. 1: MCS Knights Logo Clothing Sale Fundraiser (Order here)
Nov. 4: Senior Class Volleyball Tournament Fundraiser
(class volunteers and food concession donations needed)
Feb. 26: Krispy Kreme Fundraiser begins (delivery March 20)
May 4: Prom
---
Senior Trip
The Senior Class Trip is scheduled for May 31-June 2. The location will be decided by the Class of 2024.
Additional details will be posted here when they become available.
---
Senior T-shirts
 A team of seniors will design the Class of 2024 shirt this fall. Clothing orders will be available between Nov. 6-23. Estimated clothing deliver period will be in mid-Dec.