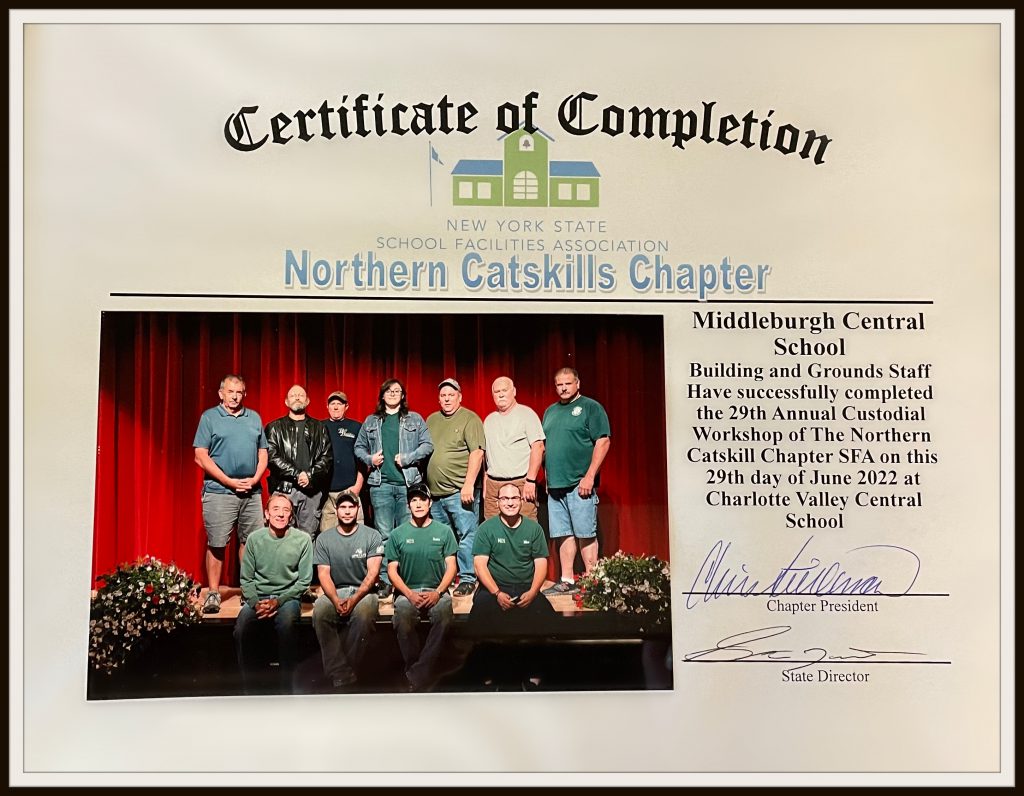 Middleburgh Building and Grounds staff have been on the front lines of establishing and maintaining a safe learning environment for our school community. Their knowledge of proper procedures and utilizing the right products and equipment during the pandemic, helped keep our students healthy and our schools open for in-person learning. 
Director of Facilities, Bill Himme and his team recently completed a Custodial Workshop at Charlotte Valley CSD. 
The Northern Catskills Chapter of the New York State School Facilities Association hosted the annual workshop. There were Building and Grounds staff from approximately 20 chapter schools in attendance. Training sessions were held and companies were onsite to demonstrate their products and equipment. In addition, our team was also recognized for their years of service and credited for the importance of the work they do.
MCS Buildings and Grounds Team: 
Bill Himme – 24 years of service
Mike Sherwood – 23 years of service
Dale Urrey – 21 years of service

Mark Bechtold – 18 years of service
Charles Wainwright – 7 years of service
Tim Thorington – 7 years of service
Dan Haslun – 6 years of service
Dusty Hoover – 5 years of service
Joe Yung – 3 years of service
Todd Bell – 1 year of service
Mike Leonard – 1 year of service
Zachary Schaffer – 1st year of service