Middleburgh Central School District announces Stella Ritter as its new Director of Pupil Personnel Services. Ritter has been an educator for over 30 years with experience as a classroom teacher, reading teacher, teacher leader and administrator.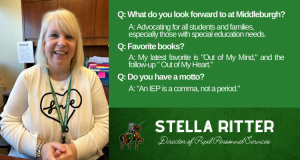 "We are excited to have Ms. Ritter joining the administrative team," Superintendent Mark Place said. "Her experience in special education and support services will provide strong leadership for MCS staff, students, and families."
The Pupil Personnel Services office assists families and students within the guidelines of New York state mandates for both special education and homelessness.
"Our office seeks to address the needs of the Middleburgh school community in a manner that respects each individual's unique abilities," Ritter said. 
Ritter said she is impressed by how professional and kind everyone is at MCSD and is excited to bring her personal and professional experiences to the mix. 
"As a parent of a special needs learner, I have grown exponentially in both knowledge of special education and advocacy for all students and families," she said.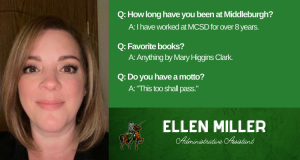 Visitors to the Office of Pupil Personnel Services will see a familiar face taking on a new role. Ellen Miller, who previously worked in the high school main office, has joined the Office of Pupil Personnel Services as its administrative assistant. 
Please welcome Ritter to our school community and congratulate Miller on her new role.
Getting to Know Stella Ritter
Question: What do you look forward to at Middleburgh? 
Answer: "Advocating for all students and families, especially those with special education needs."
Question: Favorite books?
Answer: "My latest favorite is "Out of My Mind," and the follow-up "Out of My Heart."
Question: Do you have a motto? 
Answer: "An IEP is a comma, not a period."
Getting to Know Ellen Miller
Question: How long have you been at Middleburgh?  
Answer: I have worked at MCSD for over 8 years.
Question: Favorite books?
Answer: Anything by Mary Higgins Clark.
Question: Do you have a motto?
Answer: "This too shall pass."