Middleburgh Central School District is welcoming 15 new teachers and staff this school year. We are excited they are joining our team and we will be introducing you to them over the next two weeks.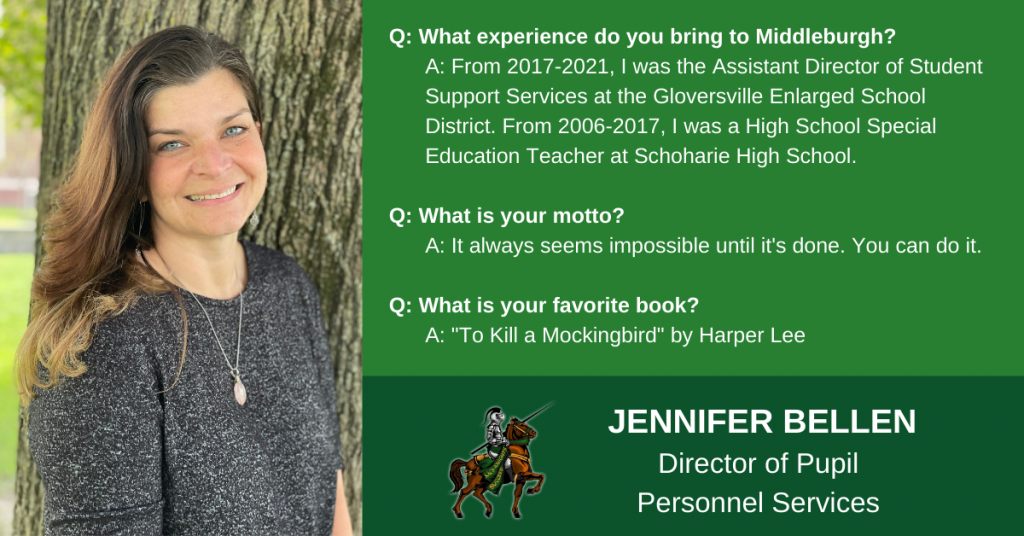 Our new Director of Pupil Personnel Services is Jennifer Bellen who received a Certificate of Advanced Graduate Studies in Educational Leadership from the Massachusetts College of Liberal Arts. She graduated from The College of St. Rose with a Master of Science in Education, and the State University of New York at Plattsburgh with a Bachelor of Science degree.
From 2017-2021, Mrs. Bellen was the Assistant Director of Student Support Services at the Gloversville Enlarged School District. From 2006-2017 she was the Special Education Teacher at Schoharie High School.
Mrs. Bellen told us she has many favorite mottos, but chose two to share.
"It always seems impossible until it's done. You can do it."
"Just keep swimming." ~ Dory, Finding Nemo
Her favorite Book is Harper Lee's To Kill a Mockingbird. And when asked her favorite movie she said, "Truth be told, I am not much of a movie watcher, however, I do love watching all the Disney / Pixar movies with my children."
"We are very excited to welcome Jen Bellen to our administrative team," said Superintendent Brian Dunn. "She is a very talented and experienced leader. We have the highest expectation that she will continue our legacy of strong, student-centered pupil services in Middleburgh."