Middleburgh Central School District is welcoming 15 new teachers and staff this school year. We are excited they are joining our team and we will be introducing you to them over the next two weeks.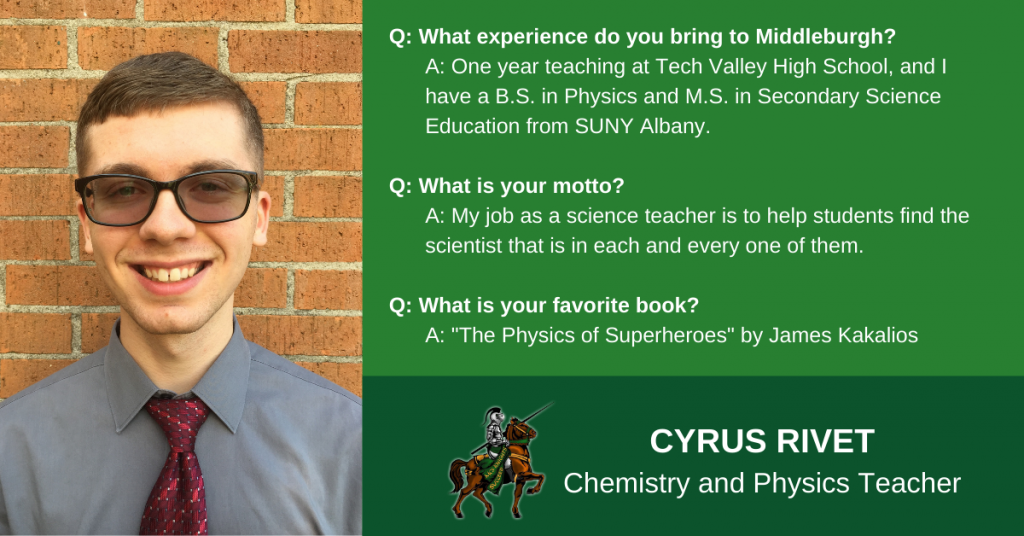 "My job as a science teacher is to help students find the scientist that is in each and every one of them," Cyrus Rivet said.
Mr. Rivet is new to MCS and will be teaching 11th and 12th grade chemistry and physics. He graduated from SUNY Albany with a Bachelor of Science in Physics and Master of Science in Secondary Science Education. Mr. Rivet previously taught at Tech Valley High School.
The Physics of Superheroes by James Kakalios is his favorite book. As for his favorite movie, Mr. Rivet said, "The Dark Knight or Avengers: Infinity War, I can't decide!"
"We are excited to welcome Mr. Rivet from Tech Valley High School," said Principal Matt Sloane. "He is an exceptional teacher with a background in Chemistry and Physics. We are excited to welcome him to our world class science department. Mr. Rivet also has a background in esports and we are excited to establish a team of our own here in Middleburgh with the help of Mr. Rivet."