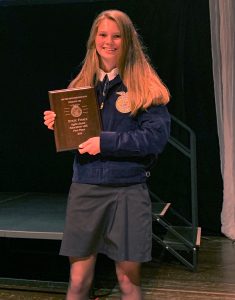 Five students from the Middleburgh Future Farmers of America (FFA) Club traveled to Syracuse this month to compete in the 94th New York State Convention. Their work showcased the hard work and dedication they have put in over the year.
Vivian Hanley, Andrew Miaski, Andie Burton, Garrett DuPont, and Brandon Diamond were the students who traveled to the event. Vivian Hanley, Brandon Diamond, Andie Burton, and Andrew Miaski competed in Senior Quiz Bowl to test their knowledge of Agriculture Education, FFA, and general agricultural knowledge, where they advanced to the second round of the competition.
Andie Burton also competed in Agriculture Education, giving a mini-lesson to students, where she was graded on the written portion and delivery of it. Andie took 1st place in that competition! She hopes to further her interest in Agriculture Education by starting a supervised agricultural experience.
Vivian Hanley competed in Senior Creed speaking competition. While Vivian did not place, she will be presenting the Senior Creed to Middleburgh's Ag Advisory Board as well  as a recap assembly for our 7-9th grade students.
Congratulations to the entire FFA Club on their hard work and dedication throughout this year!