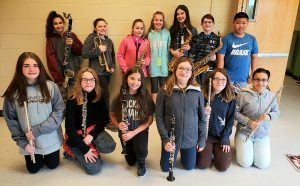 Last week, 14 students from 5th and 6th Grade Band participated in the NYSSMA Solo Festival. All of the students scored in the top two categories: Outstanding and Excellent!
Students performed a self-chosen solo from the NYSSMA manual, scales or rudiments, and sight reading. They are evaluated by a NYSSMA certified adjudicator on the areas of tone, intonation, technique, accuracy, and interpretation, and also receive written comments.
Traveling to another school and performing for a judge can be a nerve-wracking experience, especially as many of these students were participating for the first time. There has been a tremendous amount of musical growth in preparation for this festival and the students should be congratulated on their work ethic and success!
Congratulations to our music students!