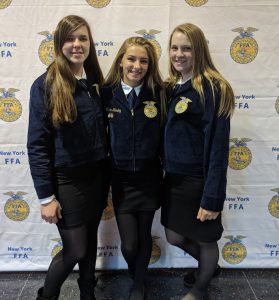 Three Middleburgh students attended the New York State FFA Convention in May. Meghan McCarron, Vivian Hanley, and Kelsey Campbell attended the convention in Rochester, NY.
McCarron attended Agricultural Education Grant meetings and participated in mock career development events for food science and floriculture, while Campbell and Hanley went to several breakout sessions including how to be a vet tech, and how to be an "agvocate" using social media.
All three also visited the Strong Museum in Rochester and attended a concert by country singer Scotty McCreary.
All three students have been part of the Schoharie Valley FFA, but next year Hanley will help lead the Middleburgh chapter of the FFA using her experiences in Schoharie Valley and the convention. McCarron and Campbell are both seniors and will be graduating in June.
McCarron and Campbell also participated in Supervised Agricultural Experiences outside of coursework through distance learning and earned their Empire Degrees, which is the highest award in New York state.
Congratulations to all three of our students, and we look forward to even bigger and better things from our FFA chapter next year!