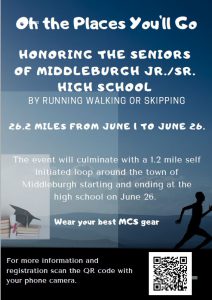 Run….walk…skip….support our very special Class of 2020!
The Middleburgh School District"s "Oh the Places You'll Go" event invites the Middleburgh school community to run-walk-skip 26.2 miles beginning June 1 through June 26.
The event will culminate with a 1.2 mile self-initiated loop around the Town of Middleburgh starting and ending at the high school on June 26.
Registration details are in this flyer or via this link